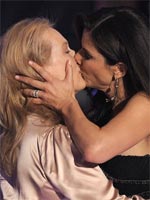 The BFCA are rarely ones to take an individual stand on the awards trail, and such was the case last night, as they mostly stuck with Oscar frontrunners down the line. In the numbers stakes,  "Avatar" (with six awards) and "Inglourious Basterds" (with three) came out on top.
But it was "The Hurt Locker" that emerged as the night's real winner, maintaining its tight season-long grip on the Best Picture and Best Director prizes, even with this more mainstream-oriented group. (It should be stressed that, despite the name, this is not a critics' award.)
Is this another "Sideways" — which also managed to parlay critical momentum into a top win here — or is something bigger afoot for the film? I'm starting to suspect the latter.
Kris can obviously offer more first-hand perspective at a later stage. Still, the sense I get from this is that, for all the claims of it being a level three-horse race, "Up in the Air" is actually trailing "The Hurt Locker" and "Avatar" — if any major precursor was going to swing the way of Jason Reitman's film, I'd have expected it to be the sometimes safe-playing BFCA.
Meanwhile, George Clooney's loss to Jeff Bridges — telling if by no means definitive — shows up the fact that "Up in the Air" has only a writing award safely in its pocket.
Elsewhere, it was business as usual, with Christoph Waltz and Mo'Nique's stranglehold on the supporting categories remaining unchallenged, and the BFCA voters refusing to move the needle in the Best Animated Feature race — despite the hopes of some critics. Meanwhile, for Best Foreign Language Film, they unsurprisingly opted for the familiar auteur brand of Pedro Almodóvar. (What, you thought Haneke had a chance here?)
It's difficult to know what to make of "Avatar"'s near-sweep in the technical races, given that this is the first year the BFCA has awarded such categories — is this a signal of the film's strength or the voters' susceptibility? Meanwhile, the inconsistency of James Cameron's epic beating "The Hurt Locker" to Best Action Film carries as little meaning as the award itself.
The most unexpected development here is arguably that odd tie for Best Actress — for the second year running, the BFCA couldn't make up its mind in this category, and for the second year running, Meryl Streep received half an award.
Many might have suspected Streep had this one sewn up, but Sandra Bullock's charm offensive is clearly persuading many. My guess: Streep split the more critical-minded vote with Carey Mulligan, allowing Bullock to balance the scales. (If you wanted emphatic proof that "Critics' Choice" is something of a misnomer, there you have it.)
The Critics' Choice Awards may pride themselves on their Oscar bellwether-status, but all they've told us here (and in some other top races) is that it's anyone's for the taking.
Best Picture: "The Hurt Locker"
Best Director: Kathryn Bigelow, "The Hurt Locker"
Best Actor: Jeff Bridges, "Crazy Heart"
Best Actress: Sandra Bullock, "The Blind Side" and Meryl Streep, "Julie & Julia"
Best Supporting Actor: Christoph Waltz, "Inglourious Basterds"
Best Supporting Actress: Mo'Nique, "Precious"
Best Original Screenplay: Quentin Tarantino, "Inglourious Basterds"
Best Adapted Screenplay: Jason Reitman and Sheldon Turner, "Up in the Air"
Best Foreign Language Film: "Broken Embraces"
Best Documentary: "The Cove"
Best Animated Festure: "Up"
Best Cinematography: Mauro Fiore, "Avatar"
Best Art Direction: Rick Carter and Robert Stromberg, "Avatar"
Best Costume Design: Sandy Powell, "The Young Victoria"
Best Film Editing: John Refoua and Stephen E. Rivkin, "Avatar"
Best Makeup: "District 9"
Best Original Score: Michael Giacchino, "Up"
Best Original Song: T Bone Burnett and Ryan Bingham, "The Weary Kind" from "Crazy Heart"
Best Sound: "Avatar"
Best Visual Effects: "Avatar"
Best Ensemble: "Inglourious Basterds"
Best Comedy Film: "The Hangover"
Best Action Film: "Avatar"
Best Young Actor: Saoirse Ronan, "The Lovely Bones"