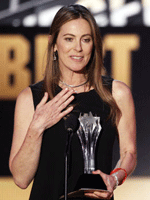 Alright, now that the booze and the hangover have worn off, let's talk last night's Critics' Choice Movie Awards.
It was a decently produced evening, the venue having shifted from the Santa Monica Civic Center to the Hollywood Palladium, right in the middle of Tinseltown.  The scheme of having 10 tables rounding the stage representing the 10 films nominated for Best Picture was a nice touch.  I was fortunate enough to be at the "Up in the Air" table with Jason Reitman, Vera Farmiga (who I was meeting for the first time) and Anna Kendrick.
George Clooney was a no-show (working on his upcoming Haiti telethon), though at least that didn't make for an awkward moment later when Jeff Bridges won the lead actor prize, the first on his way to an eventual Oscar win.
Anyway, a few notes (since Guy has already given you a thorough rundown of last night's implications)…
Some might not have responded to Mo'Nique's speech the way I did, but I thought it was exactly what it needed to be.  She did the work, she "left it on the floor," and the finished product speaks (and keeps speaking) for itself.
I ran into Kathryn Bigelow out in the lobby during a commercial break, the first time we've spoken all year.  Her speech accepting for Best Director is a nice window into who this lady is, an incredibly humble, friendly woman.  She deserves every ounce of the love she's getting, and not just for her handling of "The Hurt Locker," but for still standing tall as an independent female filmmaker who has taken plenty of hits along the way.
And I can't believe she'll be 60 soon.  Can anyone?
I had lunch with "The Cove" director Louie Psihoyos earlier in the day and told him flat out he was going to win this award.  He, of course, had no idea there were so many film awards during the circuit and asked for advice on what to say if he happened to win.  The only thing I could say is to be honest but concise, and I think he nailed that.  Getting people to see this film, to not be afraid of it, it's important, and I think he took a step toward that with his comments.
The "Inglourious Basterds" table was behind us, so all night I wanted to reach over and extend my congratulations to Christoph Waltz for what I hope is the beginning of a bright new stage of his career.  Some may be bored with his and Mo'Nique's domination of the circuit, but the fact remains, these are two of the most striking performances of this or any year.  "You've probably been congratulated a million times now," I told him.  "Well, not yet by you," he said.  He clearly seems to be enjoying his moment.  And his speech was so touching in its humble awe.
Speaking of that table, Diane Kruger came over at one point to congratulate Anna Kendrick on her success this year.  The two had just seen each other's films recently.  Kendrick said she can handle everything about "Inglourious Basterds," the scalping, the violence, etc.  But the one moment that makes her reel is when Brad Pitt sticks his finger in Kruger's bullet wound.  No, not earth-shattering reportage here, but I thought it was funny.
I was also pleased to see Saoirse Ronan take the Best Young Actor or Actress prize despite the face-plant "The Lovely Bones" has done with critics.  I asked her if she was nervous, accepting an award on such a public stage.  Not at all.  Though she said her voice tends to have a quiver to it that always makes her sound nervous.  I was just happy my fellow BFCA members didn't choose to turn their back on the film in that hour.
The unexpected John Hughes tribute was, I have to say, quite moving.  I was singing along with Death Cab For Cutie with the rest of the crowd and reliving the memories.  It was a nice touch for Jason Reitman to bring it up upon accepting his award for Best Adapted Screenplay.  There was also a nice moment during the commercial break when Reitman got on stage without a mic to scream out a big thank you to his wife, who he neglected to mention during his speech.
The after-party was attended by Ken Jeong, the Anvil guys, Louie Psihoyos, Adam Lambert (commanding the biggest crowd despite having nothing to do with the evening's proceedings) and a few others, though don't force me to recollect.  By then the Dewers had fused itself with my blood.
Henry Selick was there, actually, having an absolute blast.  I sat down with Selick some weeks back and haven't gotten around to writing up the interview yet, but he's loving life on the awards circuit, win, lose or draw.
Anyway, on to the implications.  I agree with Guy.  The race has transitioned into "Avatar" vs. "The Hurt Locker" now more than ever.  "Up in the Air" really needed this, and all indications from the inside is that "Avatar" will be taking the Golden Globe in a cakewalk Sunday night.
Speaking of two-horse races, the lead actress category didn't do much to clear matters last night.  Sandra Bullock and Meryl Streep tied for the award.  I was in the lobby for the, uh, moment, which I did eventually catch on DVR.  Sunday, they're both going to win yet again, albeit in different categories.  So it'll be a footrace to the finish line.
Circling back around to Bridges, this first rash of televised awards shows gives you a chance to practice and even put your best foot forward for Oscar voters, and despite the Chris Cooper/Scott Cooper gaffe, I think Bridges and all his humility nailed it.  There were two standing ovations all night, by the way.  One was for Joel Siegel Award winner Kevin Bacon.  The other was for Bridges.
All in all, a grand evening, as always.  Kristin Chenoweth navigated an awkward script well enough, but she's born for this kind of thing.  And, of course, it would have been nice for "A Serious Man" to win SOMETHING, but oh well.  On to the next show.