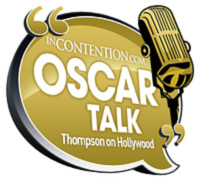 Welcome to Oscar Talk, a weekly kudocast between yours truly and Anne Thompson of Thompson on Hollywood.
After a busy week of guild announcements and circuit parties, not to mention plenty of industry news from NBC to Disney and anything in between, Anne and I are beat. And we're moving into a busy weekend of awards shows and gatherings as well, so there's no rest for the wicked. That having been said, let's dive in to today's topics:
• The Writers Guild of America announced its slate of contenders Monday, following a rash of ineligibilities that were revealed last week. We discuss the implications, if any.
• The WGA wasn't the only guild staking a claim this week. The American Cinema Editors and the American Society of Cinematographers also nominated. We touch on them briefly.
• We've been bouncing all over town this week as studios put their best foot forward on the party and event circuit. We touch on a pair of them celebrating the sound of "Transformers: Revenge of the Fallen" and the principals of Warner's "The Blind Side."
• The Critics' Choice Movie Awards are tonight, followed by the Golden Globes on Sunday. Oh yeah, and some parties, too. We preview the busy weekend ahead and discuss the three-horse race for Best Picture.
You can listen to this week's podcast below, with Patterson's Hood's original song "Depression Era" leading the way. It goes a bit long but we had lots to discuss. As always, you can subscribe to Oscar Talk via iTunes here.
[display_podcast]