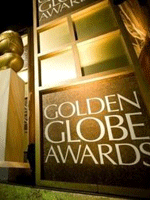 This weekend the first two major televised awards shows will hit and the race will begin to take a certain shape.  Though to be quite honest, I'm beginning to get the sense that each of these major precursors will go different ways.  At the end of the day, I think we could be looking at a three-horse race all the way up until the Best Film Editing award on Oscar night (which will either go to "Avatar" or "The Hurt Locker").  Then it'll be a two-horse race between that film and "Up in the Air" right up until the final envelope is opened.
This is what we wanted, though.  Right?
Pete Hammond does a nice job of previewing the BFCA's Critics' Choice Movie Awards at The Envelope.  Pete and I did a little dog and pony Q&A intro to a free showing of "Up in the Air" at the Landmark theater in West L.A. last night to a packed house.  Some 60 attendees were turned away at the door.  Mainly it was raising awareness, discussing the nominees, offering up who we voted for, etc.
Being a member of the organization the last three years, I've refrained from actually predicting the proceedings as of late.  I do think it's the same three-horse race, however, and I think the only really telling thing would be if "Avatar" managed to win.  Tune in Friday night at 9:00 EST, 6:00 PST on VH1.
The Golden Globes, on the other hand, I'm happy to take a stab at.  Entertainment Weekly has a gallery of The show will be live on both coasts (for the first time) Sunday at 8:00 EST, 5:00 PST on NBC.  Moves are being made behind the scenes by vested interests looking to woo this easily swayed organization.  Hopefully no Blu-ray players were involved this time.
My guesses:
Best Picture (Drama)
"Avatar"
Best Picture (Comedy or Musical)
"The Hangover"
Best Actor (Drama)
George Clooney, "Up in the Air"
Best Actress (Drama)
Sandra Bullock, "The Blind Side"
Best Actor (Comedy or Musical)
Matt Damon, "The Informant!"
Best Actress (Comedy or Musical)
Meryl Streep, "Julie & Julia"
Best Director
James Cameron, "Avatar"
Best Supporting Actress
Mo'Nique, "Precious"
Best Supporting Actor
Christoph Waltz, "Inglourious Basterds"
Best Screenplay
Quentin Tarantino, "Inglourious Basterds"
Best Animated Film
"Up"
Best Original Score
Michael Giacchino, "Up"
Best Foreign Language Film
"Un Prophete"
Best Original Song
"(I Want To) Come Home" from "Everybody's Fine"
Feel free to cut loose with your Golden Globes and/or BFCA predictions in the comments section below.