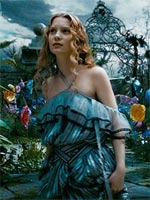 [UPDATE: Commenter Aspect Ratio reassures the pop-phobic that only Avril Lavigne's contribution will feature in-film (and over credits). Otherwise, it's Danny Elfman business as usual.]
File this under film news I didn't see coming: Fall Out Boy's Pete Wentz and Blink-182's Mark Hoppus are collaborating to write music for Tim Burton's "Alice in Wonderland," which opens Stateside in March. Wentz told MTV News:
We did a song for 'Alice in Wonderland,' [and we] might do a few more depending on when [Mark] goes in with Blink. [It] sounds nothing like Blink or Fall Out Boy. Mark understands songwriting on a completely different level. It's awesome to have a chance to sit in a room with him and watch him work out a melody.
The less it sounds like either artist's band the better, as far as I'm concerned. The "Alice in Wonderland" soundtrack will also feature new tracks from the likes of All Time Low and Avril Lavigne, as well as (slightly more my speed, this) Robert Smith and Franz Ferdinand. Cinema Blend's Katey Rich has a full listing here.