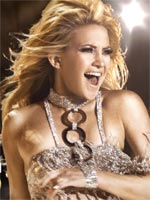 The Best Original Song race gets an awful lot of stick for its wonky voting system and sometimes questionable musical judgment — problems that have lately converged to scupper the hopes of many well-regarded contenders, with last year's snub of Bruce Springsteen's "The Wrestler" raising particularly widespread ire.
I'll start, however, by saying a few words in the category's favor. The odd egregious snub aside, the standard of competition has improved notably in recent years — some have complained that the Academy no longer recognizes familiar chart hits with the regularity that they did in the 1980s, but their musical range has expanded. The last decade has seen them embrace hip-hop, world music and folk, including several numbers that were imaginatively integrated into the cinematic fabric of certain films.
Do they still nominate the occasional stinker? Sure. But by and large, we're in a better, more adventurous place than we were 10 years ago, when dreary MOR balladeering from the likes of Phil Collins, Mariah Carey and Whitney Houston ruled the race.
That's the good news. The bad news, as The Wrap's Steve Pond (a former rock critic himself) correctly diagnoses in an extended critique of the category, is that the Academy still hasn't found a voting system that fairly reflects all the contenders in a given year. The procedure they've used to determine the nominees for the last four years — and which will once more take place tonight — is to screen three-minute clips of all the contending songs as featured in their respective films for the music branch voters, who will then score each one one a scale of six to 10. (Why not one to 10, or even one to five, you ask? So do I.)
The new(ish) system is well-intentioned, and does at least encourage voters to think of it as a cinematic award. However, as we know, it all but kills the chances of any song featured without visual accompaniment in a film — closing credit tracks, in particular. And as Pond explains so well, visuals are not always essential to a song's cinematic relevance. The obvious example he uses to support his statement is last year's snubbed Springsteen track:
Anybody who saw Darren Aronofsky's "The Wrestler" knows that Bruce Springsteen's title song was enormously important punctuation to the end of the movie. The song begins playing a couple of seconds after Mickey Rourke takes a flying leap that will likely kill him; Rourke jumps, the screen goes black, there's a pause … and then Springsteen's mournful lament starts. Not only does it cue the audience as to what has happened, it sums up the film emotionally in a way that was as affecting, and as effective, as any song from any movie that year.

If the song had been used in a montage half an hour earlier, it would have hurt the film – but it sure would have boosted Springsteen's Oscar chances, which were essentially killed by the fact that voters who hadn't seen the film saw nothing but the song playing over a roll of credits.
The heart of the problem, then, is that songs with a more interpretive connection to the content of their films are essentially lost on viewers who haven't seen the film at hand — and there's little a decontextualized three-minute clip can do to remedy that. As such, Best Original Song can be lumped in with any number of categories plagued by the same fundamental problem: voters aren't seeing enough of the worthy films.
It'll be interesting to see how the system holds up this year, when a number of songs in contention could be affected by sentiment towards the films housing them. "Cinema Italiano" from "Nine," for example, is a widely criticized composition from an increasingly unpopular film — though in terms of cinematic integration, it ticks all the branch's boxes.
On the other hand, I'm curious to see whether the overwhelming momentum for "Avatar" can pull its Leona Lewis theme "I See You" into the race — like nominees from "Slumdog Millionaire" and "WALL-E" last year, it's a closing-credit track that has some visual accompaniment, but nonetheless doesn't feel particularly essential to the film as a whole. The fate of songs like these could be an interesting litmus test for the flexibility — and discernment — of the current voting system.