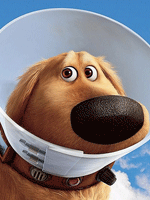 I can't help but wonder if there are some hard-working publicists out there getting in the ear of a few people, since we've had two pieces in as many days calling the race for Best Animated Feature a potential upset waiting to happen.
Anyway, first, at The New York Times, Brooks Barnes uses LAFCA and NYFCC wins for Wes Anderson's "Fantastic Mr. Fox" over Pixar's "Up" as a basis for determining the race is bending in the Roald Dahl adaptation's favor.  Sasha Stone notes the mantra, however: critics don't vote for Oscars.  Barnes then goes on publish fluffy quotes from vested interests that don't really make the case one way or the other.
Meanwhile, at The Hufington Post, Sam Wasson notes that "Fantastic Mr. Fox" manged to force Anderson "out of his world of decadence and ushered him toward a more economical, barebones approach to story."  Which could go a long way for him with the Academy, Wasson seems to suggest, since his recent work has been a bit inaccessible and it's been almost a decade since the writer/director was recognized by the organization.
In fairness, "Fantastic Mr. Fox" is well-liked within the Academy and could indeed give "Up" a run for its money.  I don't really know why it's such a hot topic at the beginning of the week, but we'll probably know more on February 2, because if Anderson and co-writer Noah Baumbach manage to get a nomination for their screenplay, then these columnists might have something to work with in their arguments.
Thoughts?