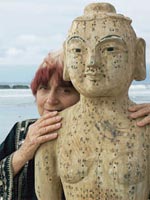 Much like last week's announcement in their top category, most of the usual suspects are present in the Guild's documentary lineup.
I'm particularly pleased to see French New Wave veteran Agnès Varda continue to rack up a healthy precursor tally; at this rate, she's on course for her first Oscar nomination. (She'd be breaking an Oscar age record in the process, too.)
Of course, the DGA and the Academy don't enjoy nearly same hand-in-hand relationship in Best Documentary as they do in Best Picture. Not since 1991 have the two agreed on a winner (Barbara Kopple's "American Dream"), and even then, it was in separate years.
Meanwhile, a measly three of the last 17 DGA doc winners were also Oscar nominees. (It's not much better in reverse: only seven of the last 18 Oscar winners also scored DGA nods.)
In other words, this is very much a self-standing award rather than a simple bellwether. (This year, two of the six nominees are already out of Oscar contention.) The DGA nominees are:
Sacha Gervasi, "Anvil! The Story of Anvil"
Agnès Varda, "The Beaches of Agnes"
Louie Psihoyos, "The Cove"
Geoffrey Smith, "The English Surgeon"
Robert Kenner, "Food, Inc."
Mai Iskander, "Garbage Dreams"