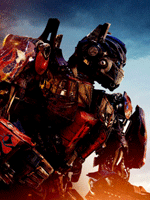 Speaking of sound, Paramount was shrewd enough to put together a wonderful event last night in the Cary Grant Theater on the Sony lot dedicated to the sound design of "Transformers: Revenge of the Fallen." Re-recording mixers Gary Summers and Greg P. Russell were on hand, as well as sound effects editors Ethan Van Der Ryn and Erik Aadahl.  Michael Bay was also in the house, introducing his crew and discussing the importance of sound in his work, which he has said is 50% of the movie-going experience. And the Cary Grant, by the way, is the actual stage the film was mixed on.
After a brief introduction from Bay, Russell took the mic to briefly explain what it is he and the boys do.  "Painting with sound" is what he likes to call it, since as a re-recording mixer, he gets to sit at a console and play with a treasure trove of effects created specifically for the film by Van Der Ryn, Aadahl and their team.  Most of the effects for the film were indeed original to the piece, which is preferable with something as aurally unique as the "Transformers" films.  "Some people take it off a shelf," Bay said, referring to the use of stock or cataloged sound effects, "and that's just wrong."
Then it was on to the first of five clips, the opening set piece in Shanghai, which was a nice way of getting the modest crowd in the mood for the night's shenanigans.  Frankly, this kind of thing should be open for the Academy, which votes in the sound categories at large when it becomes clear year in and year out that most of the membership doesn't understand quality sound work, let alone the difference between sound mixing and sound editing.
Next up was Ethan Van Der Ryn, who made his name with the "Lord of the Rings" franchise and has stepped his game up considerably with the "Transformers" films.  He told the crowd that one of the guiding principles of the sound design on the film was figuring out how to take organic things from the real world and twist them to give them a slightly synthetic edge, and conversely, how to take synthetic elements and give them an organic feel.  He then offered up an audio visual demonstration with a pair of spherical magnets (check out the audio below) that, when tossed into the air an inch or so apart, they made an interesting vibrating metal sound when attracting mid-toss.  This, of course was discovered by accident when he was fooling around with the magnets on stage one day.
This effect was used in the "reed man" sequence, as they call it.  It is the moment in the film when a giant cat-like Decepticon charges a military facility and lets loose tons of ball bearings (which you discover are tiny robots) that come together and form an interesting blade-like creature (the "reed man").  This was most of the sound crew's favorite sequence.
Next up was re-recording mixer Gary Summers, who stepped in on the film behind Russell's former partner, Kevin O'Connell, but brings 30 years experience (and four Oscars) to the table.  Summers's job is mixing dialog and score into the track (while Russell's is mixing the sound effects in).  He talked about the importance of clarity in a sound track and finding the right balance between dialog and effects before bringing Aadahl up to discuss the creation of sound effects.
This, of course, was the treat of the evening.  One of the most fascinating things about what these guys do is where they find sounds to record.  For instance, Aadahl showed a video of his stove, which opened in an old, creaky, rusted-iron-gate fashion.  This sound went on to be used for the elderly Decepticon-turned-Autobot Jetfire.  He also brought his electric shaver along to demonstrate how the noise it makes was used for a tiny Decepticon insect-like creature.
It's brilliant stuff all around and really, you get lost in the fun these guys have.  Things like critics and reviews begin to fade into the background when you see that these are professionals working toward an experience, one that clearly entertained the masses regardless of a four-star scale.
I spoke briefly to Bay about that after the event.  When you see that, clearly, so much hard work and dedication to a specific craft (that is inarguably expert), how does it feel when the it's critically reviled? His answer was a bit expected, of course — "I don't make films for critics, I make them for mass consumption, for an audience." — but it's believable. He's become a "whipping boy," as he puts it, for the critical fraternity, but he goes to see films with audiences miles away from his Miami home to gauge reactions and he sees people laughing and cheering and engaged with the experience. That's his goal, and speaking personally, good on him for sticking to it.
He also told me a little about "Transformers 3," how he wants to scale things back just a bit, make it more character driven and something of an espionage film. It'll no doubt be every bit the sound challenge any Michael Bay film has ever been, so I'll be listening.
I pieced together bits of the night's presentations below so you can have a listen yourself.  The order of the speakers is Van Der Ryn, then Summers, then Aadahl.  You'll hear Michael Bay pop in from time to time as well.  At the end is a 15 minute Q&A with the lot of them, including Russell.  Speaking of which, be sure to check back next Thursday, January 21 for a Tech Support interview with Russell, who as you know, has 12 Oscar nominations to his credit and has yet to win.  (He told me cheerfully last night, "Hey, you know, maybe we'll get back up there and that'll be cool.  Then we can sit back and watch 'Avatar' win everything!")
[display_podcast]
Also, I thought I'd include the teaser trailer for the film, which I've always thought made great use of sound effects on the track without much dialog and with no score whatsoever. It gives you a good feel for the work: