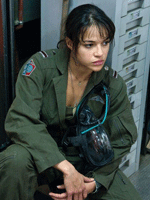 And, there we are. "Avatar" gets a nomination for best writing from a 10,000 member-strong guild and plenty will find reason to argue with it. But let's look at the rest.
"The Hangover" managed to get a nomination in the original screenplay field in the wake of a number of eligibility rulings on some top contenders. I'm most excited for Scott Cooper and "Crazy Heart," because I'm getting the feeling he might turn this and his USC Scripter bid into something tangible for Oscar consideration. "District 9," of course, was not eligible here and is still a threat, ditto "An Education," but the race is a little more interesting now.  Especially when you consider Nora Ephron (also nominated today), who I've always felt was a threat with the Academy for navigating two sources and making some entertaining sense of it all.
Elsewhere it's the usual suspects, except for the appearance of "Star Trek" in the adapted ranks.  Yes, the writers of "Transformers: Revenge of the Fallen" are WGA nominees.  But in my view, they deserve the pat on the back for this film, a high octane entertainment that was smartly conceived and remains one of the true gems of 2009.
Check out the nominees after the jump.
Adapted Screenplay
"Crazy Heart" (Scott Cooper)
"Julie & Julia" (Nora Ephron)
"Precious" (Geoffrey Fletcher)
"Star Trek" (Alex Kurtzman, Roberto Orci)
"Up in the Air" (Jason Reitman, Sheldon Turner)
Original Screenplay
"(500) Days of Summer" (Scott Neustadter, Michael H. Weber)
"Avatar" (James Cameron)
"The Hangover" (Jon Lucas, Scott Moore)
"The Hurt Locker" (Mark Boal)
"A Serious Man" (Ethan Coen, Joel Coen)
Documentary
"Against the Tide" (Richard Trank)
"Capitalism: A Love Story" (Michael Moore)
"The Cove" (Mark Monroe)
"Earth Days" (Robert Stone)
"Good Hair" (Lance Crouther, Chris Rock, Chuck Sklar, Jeff Stilson)
"Soundtrack for a Revolution" (Bill Guttentag, Dan Sturman)