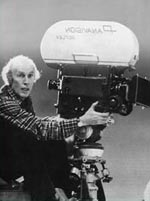 It is with great sadness that I read of the passing of Éric Rohmer, a titan of French cinema who remained creatively active almost to the end of his 89-year life.
Boasting arguably the mellowest, most droll filmography of his New Wave brethren, the esteemed writer-director (and former editor of Cahiers du Cinéma) delighted in the literary and sociological possibilities of dialogue — he's largely responsible for the "talky" tag that clings to French art film today, but that's a virtue rather than a debit.
Few writers in film could define a character through the patterns and concerns of their speech as precisely as Rohmer, his sphere of influence extending from Woody Allen to any number of figures in current American indie cinema.
If you're as keen on his work as I am, of course, you don't need to be told this. If you haven't yet made his acquaintance, begin with any of his Six Moral Tales (the most well-known of which, "My Night at Maud's," garnered him his lone Oscar nomination for writing), which mine rich humor and psychological insight from a series of anecdotal narratives.
More recently, his quartet Tales of the Four Seasons is a wry delight: "Autumn Tale," a gentle meditation on wine and middle-aged romance that preceded "Sideways" by seven years, was particularly favored — an awarded — by U.S. critics.
From there, it's an easier leap to the bolder formal strokes of "The Marquise of O," "The Lady and the Duke" and his obliquely lovely 2007 farewell "The Romance of Astrea and Celadon." For my part, I think I'll be diving into the appropriately melancholy "The Green Ray" later in tribute. The movies, at least, aren't going anywhere.