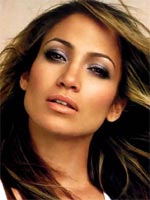 Jennifer Lopez, in an Elle interview, on why "Maid in Manhattan" and "Monster-in-Law" are actually "very layered movies." Oh, Jennifer.
I'm rather enjoying Lopez's recent rewriting of her career history. Perhaps you caught her statement last week on her supposedly scandalous Oscar snub for "El Cantante":
I feel like I had that [Oscar worthy role] in 'El Cantante,' but I don't think the Academy members saw it … It is a little bit frustrating. When the Oscars were on, I had just given birth on the 22nd, and the Oscars I think were a day or two later. I was sitting there with my twins — and I couldn't have been happier — but I was like 'How dope would it have been if I would've won the Oscar and been here in my hospital bed accepting the award?
Just like those neglectful Academy members, I never saw the film, so I'm not judging. But the days of her really rather excellent work in "Out of Sight" feel very distant, don't they?