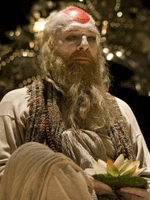 Via AMPAS press release, the final group includes:
"District 9"
"Il Divo"
"The Imaginarium of Doctor Parnassus"
"Night at the Museum: Battle of the Smithsonian"
"The Road"
"Star Trek"
"The Young Victoria"
Well, there was always one spot in flux for me here and most recently I was giving it to "Cirque du Freak" for some great work by a veteran of the branch.  If I were to hazard a guess as to which of these gets it, I guess I'd say "Parnassus," its one and only nomination.  There is some good work in "Il Divo," too (from the artist who brought the natives of "Apocalypto" to prosthetic life), so maybe that could come around.  Or "The Road." The rest seem like non-starters to me.