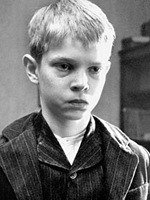 "Avatar" continues its guild steamroll with a mention from the ASC today, a mention I frankly didn't think the film would get.  Then again, the guild is typically kind to digital photography where AMPAS is not (examples are "Collateral" and "Apocalypto"), so I wouldn't say it's a slam dunk in this category for Oscar.  Then again, maybe I'm blind to the writing on the wall here.  And "The Curious Case of Benjamin Button" may have gone a long way toward dispelling digital bias in the Academy.
I don't get the love for Christian Berger.  I haven't since day one.  There is nothing appealing to me about the way Michael Haneke visually captures his films.  There's rarely anything appealing to me about his films period, truth be told.  But somehow going with black and white and employing his usual brand of tracking shots, long takes, etc., rarely with compelling composition (all my opinion, of course), it has managed to bring Berger laurel after laurel.  Critics awards are one thing, but an organization like the ASC, which I trust and respect, I don't know.  Maybe I just missed the boat completely.
"Nine" finally gets a guild mention and Robert Richardson, as always, is an ASC favorite once more.
Which of these, if any, will miss with the Academy (since one always does)?  If I had to guess, I'd say either "Avatar" or "The White Ribbon" (though the latter has obviously had an impressive showing on the circuit).  Many would probably like to say Dion Beebe is out, but I still think his beautiful lighting on the film is safe.
Who'd be a replacement?  Probably someone like Bruno Delbonnel.  If guild favorite Roger Deakins missed here, I have a hard time thinking he'd have better luck with the Academy.  And if the digital photography in "Public Enemies" didn't work for ASC members, you can bet it won't fly with AMPAS.
One thing is for sure: Greig Fraser and Andrew Lesnie, two talents responsible for some of the most beautiful cinematography of the year, have once again received the shaft.
The nominees:
"Avatar" (Mauro Fiore)
"The Hurt Locker" (Barry Ackroyd)
"Inglourious Basterds" (Robert Richardson)
"Nine" (Dion Beebe)
"The White Ribbon" (Christian Berger)