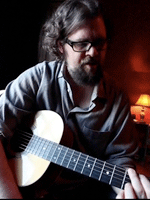 Maybe three months back we told you about Patterson Hood's "Depression Era" from Scott Teems's "That Evening Sun," a soulful, gritty southern ditty that, for my money, is one of the best original songs in a movie this year.  We featured the track in our "listen to" series back in November.
Thankfully the song made the cut for original song contenders last month, joining 62 other tracks.  But as I've been saying since I first saw the film, it'll be a bit of an uphill battle considering the song plays over the film's closing credits and not in the narrative of the film.  Voters screen clips of eligible contenders' usage in the context of a film, so something like, say, "Cinema Italiano," however awful, has a leg up over something like "Depression Era," however brilliant.
That's not stopping an underground, no-budget Oscar campaign on behalf of the song by Freestyle Releasing.  The distributor has enlisted the help of Paste Magazine, which is exclusively hosting a video of Hood discussing the song and performing it from his Athens, Georgia home.  It's a great little clip and well worth the effort for this underdog contender.
One can only hope.  Check out the video after the jump.