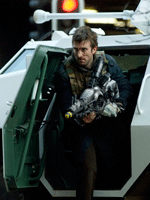 For me, "District 9" is the biggest and most pleasant surprise for me in this morning's American Cinema Editors announcement.  If ever the film looked like a lock for a Best Picture nomination, now is that time, I have to say.  Getting in over presumed Oscar frontrunners "Precious" and, most especially, "Inglourious Basterds," that's a pretty big feather in its cap if you ask me.
"Star Trek" also makes another fairly strong case this morning for getting into the Academy's 10 over something like "Invictus," which keeps missing with guild after guild and should, perhaps, finally be called a spade.  The drama field is then rounded out by what has become the rather definitive frontrunner trilogy of films.
In the comedy field, we get veterans in Joe Hutshing and Richard Marks perhaps predictably recognized for "Its Complicated" and "Julie & Julia" respectively, while the Coen brothers get their third nomination from the guild to date.  The other two: Best Picture nominees "Fargo" and "No Country for Old Men." Round it out with two comedies that are tricking people into thinking they'll be Best Picture nominees (with no mention of the dead and dying "Nine") and voila, the ACE Eddie nominees.
Check out the full list after the jump.
Best Edited Feature (Dramatic)
"Avatar" (James Cameron, John Refua, Stephen Rivkin)
"District 9" (Julian Clarke)
"The Hurt Locker" (Bob Murawski, Chris Innis)
"Star Trek" (Maryann Brandon, Mary Jo Markey)
"Up in the Air" (Dana E. Glauberman)
Best Edited Feature (Comedy or Musical)
"(500) Days of Summer" (Alan Edward Bell)
"The Hangover" (Deborah Neil-Fisher)
"Julie & Julia" (Richard Marks)
"It's Complicated" (Joe Hutshing, David Mortiz)
"A Serious Man" (Roderick Jaynes)
Best Edited Animated Feature Film
"Coraline" (Christopher Murrie, Ronald Sanders)
"Fantastic Mr. Fox" (Andrew Weisblum)
"Up" (Kevin Nolting)
Best Edited Documentary
"The Cove" (Geoffrey Richman)
"Food, Inc." (Kim Roberts)
"This Is It" (Don Broch, Kevin Stitt)