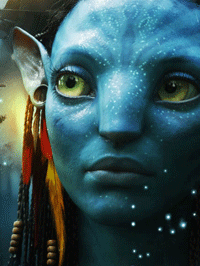 *All historical figures cited are adjusted to today's dollars.
Have you guys heard of this movie "Avatar?" Apparently, seeing as it's the number one movie for the fourth week in a row and dropped a ridiculous 29% to $48.5 million. First off, it's the biggest fourth weekend for a film ever, narrowly eclipsing the $45 million of "Titanic." Its running total of $429 makes it the 24th biggest film of the last 30 years and it's only been out for 24 days.
Remember how big "Star Wars Episode III: Revenge of the Sith" was? Well, "Avatar" will pass it tomorrow on the all time chart. Remember how ludicrous the grosses for "The Passion of the Christ" were? That'll get passed on Tuesday.
There's no overstating the size of this film's performance, and it's time to start talking about a $600 million+ finish domestically. Since I was born in 1982, there have only been five films that have made that kind of money: "E.T.: The Extra-Terrestrial," "Titanic," "Return of the Jedi," "Jurassic Park" and "Star Wars Episode I: The Phantom Menace." Somewhere right now, James Cameron is shitting a gold brick.
"Sherlock Holmes" and "Alvin and the Chipmunks: The Squeakquel" stuck to the script, each dropping 54% but holding strong in the runner-up spots. Both films should cross $200 million and are the Christmas gifts that keep on giving for their studios.
The top debut of the week was Lionsgate's "Daybreakers" at fourth with $15 million. You could film vampires sitting around reading Robert Frost and it would be popular these days, but this film was surprisingly well received by critics and features an impressive cast. Don't expect it to stick around too long but I can't imagine the budget being more than $40 million, so it should work out in the end.
"Leap Year" stalled out at $9.2 million and sixth place. Hollywood used to try and be clever and find release dates that correlate with their titles ("Friday the 13th" opened on a Friday the 13th!). Now they don't give a shit. "Is 2010 a leap year? No? Who cares, put it out!…Should we wait a few years to release 2012? No! Release it now!"
In any case, this is only the fourth Amy Adams film to open wide and only the second after "Enchanted" where she had to do most of the heavy lifting. Don't be surprised if she goes back to sharing top billing in her films from now on.
"Youth in Revolt" took ninth place with $7 million, which isn't that bad considering its low screen count. It won't save The Weinstein Company, but it shouldn't do any harm to Michael Cera's budding career either. By my calculation, with that face, he still has a good 15 years of playing high schoolers before he has to start worrying about his career.
Nothing else of note really. "Up in the Air" had another decent weekend and passed $50 million, making it the only other Best Picture contender besides "Avatar" playing well at the multiplex while ballots are out. I didn't get to see anything yet this week but maybe later tonight I'll get out.
What about you?  Here are the weekend's top domestic grossers, courtesy of Exhibitor Relations: