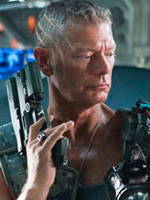 Fresh on the heels of a page one Mo'Nique story, The New York Times has unleashed its annual Oscar package, great stuff as always.
Manohla Dargis leads the girl-power charge with an appreciation of Kathryn Bigelow's "The Hurt Locker." It's a solid piece of analysis that spends a few graphs discussing the art of the zoom and is accompanied by a novel "anatomy of a scene" interactive feature.
Next up, A.O. Scott stumps for Spike Jonze's "Where the Wild Things Are" once again (also with interactive accompaniment), while Stephen Holden waves the flag for Oren Moverman's "The Messenger" (following a Woody Harrelson appreciation in the pages of the LA Times yesterday).
Going broader, Michael Cieply addresses the 10 once again and gets one anonymous Academy governor to admit what we all know, that the expanded Best Picture field is likely an experiment that might not last more than one or two years.  And Douglas McGrath (rather out of the blue) calls for Doris Day to receive an honorary statuette.
There is more, including a George Clooney profile we pointed you to last week, a survey of the few directors to win multiple Oscars and a love letter to Honorary Oscar recipient Roger Corman, but most significant to note is a cross section of the paper's three critics' perspective on who the nominees SHOULD be in a few major categories.
Two of the three (Scott and Dargis) are "Avatar" devotees, while "The Hurt Locker" is the only film all three agree should be nominated.  Scott and Dargis gets props from me for noting Stephen Lang in the supporting actor field, but unfortunately, the lead actor and actress categories aren't considered.  Kind of bizarre, but anyway, read the rest of their preferences here, and dig into the whole Times package here.