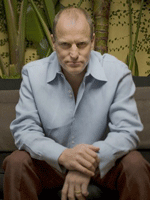 Of course I've been singing Woody Harrelson's praises in "The Messenger" since day one, and thankfully, after a shove into the race with National Board of Review recognition, he's been on a relatively solid track as of late.  And as I mentioned in Friday's Oscar Talk, there is some chatter around his potential for a win in the Best Supporting Actor race.
The best thing about that scenario?  Few would argue with it.  He is one of our most under-valued actors, on a trajectory similar to the career of Jeff Bridges, lurking with solid work, both as a character player and in a leading capacity if need be.  Wouldn't it be quite the breath of fresh air if they both walked away with Oscars this year?
In this today's LA Times, Harrelson gets the flattery treatment from critic Betsy Sharkey, quite the commodity in the thick of an awards race, with ballots in hand and a Screen Actors Guild ceremony a couple of weeks away.  This is how it happens, especially in a race that is a bit more up in the air than many seem to think.
Writes Sharkey:
With critical notice for his performance stacking up — Screen Actors Guild and Golden Globe nominations thus far and Oscar buzz, well, buzzing — the role also serves as a reminder that Harrelson is one of the most underappreciated actors of his generation. It is the reason, as well, for my lament that richly demanding characters like Tony, ones that would keep Harrelson top of mind, don't come his way more often. Perhaps "The Messenger" will change that.

The problem is that we, and I mean that in the largest sense — fans, filmmakers, the guys who greenlight movies — simply don't tend to think of the 48-year-old in these terms. On the face of it, Harrelson is never an easy choice. Not handsome in the hunky way of Brad Pitt or possessing that sense of latent brilliance you see roaming around inside of Robert Downey Jr., what Harrelson has is an earthy Tom Sawyer aura, the Midwest version of the boy next door rather than the casting director's.
But the piece is much more robust than the usual appreciation and manages to offer both the expected perspective and insightful nuggets here and there.  Give it a read here.  And check out my interview with Harrelson from earlier in the season here.