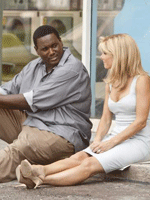 With the DGA, SAG and PGA out of the way, it's on to the fourth and final of the major guild announcements: the Writers Guild of America, which announces Monday.
The WGA has seemingly instituted a slash and burn campaign on a number of the year's hopefuls this season.  Go here, here and here for the details.  Alright, "slash and burn" isn't really accurate.  If WGA brass wants to play "in the club," that's their prerogative.  No sense getting worked up over it.  But suffice it to say, the field is fairly wide open now and, at the end of the day, no one should really bother putting too much prognosticative stock into what we get from the guild next week, seeing as the AMPAS writers branch is likely to go with a number of the fallen.
Still — it's fun to guess at the picks, no?
From where I stand there are still 10 really decent bets, and maybe five or six more that wouldn't surprise me if they made it through.  Best Picture contenders "The Hurt Locker," "Precious" and "Up in the Air" are probably the easiest picks of the bunch, but what about the other seven?
In the adapted field, we can count out "An Education," "District 9," "Fantastic Mr. Fox," "The Road" and "A Single Man" for eligibility reasons.   Jason Reitman and Sheldon Turner, as well as Geoffrey Fletcher are, again, pretty safe.  After that, it's a little tricky.
I've been saying for some time that "Crazy Heart" could catch on outside of the lead actor race and, on the heels of a USC Scripter nod and with a few key titles out of the way, I'd say Scott Cooper could very well find himself chalked up here.  Screeners were sent to the WGA, and not to put too much on it, but shipping screeners to the vast membership of this guild is very, very helpful.
"Julie & Julia" also showed up on members' doorsteps and, call me crazy, it seems like just the sort of populist pick the 10,000 member-strong guild would make.  As does "The Blind Side," frankly (though screeners for that were not shipped — then again, with $200 million in box office receipts, not to mention lots of guild screenings, we can assume plenty of members saw the film).  Screeners for "Star Trek" weren't sent out either, but maybe it'll still slide in.
But then there are a couple of films that were shipped — namely "The Informant!" and "Where the Wild Things Are" — that could jump up and surprise.  So it's a bit open.
Anyway, I'd fill it out with the movie that won't go away, so:
Best Adapted Screenplay
"Crazy Heart" (Scott Cooper)
"Julie & Julia" (Nora Ephron)
"Invictus" (Anthony Peckham)
"Precious" (Geoffrey Fletcher)
"Up in the Air" (Jason Reitman, Sheldon Turner)
(other possibilities: "The Blind Side," "The Informant!," "Star Trek," "Where the Wild Things Are")
Next up, the original titles.  You can bank on "(500) Days of Summer" showing up here, as well as the aforementioned "The Hurt Locker." I imagine the Coen brothers will do fine as well, though "A Serious Man" is a more demanding piece than "Burn After Reading" (which was nominated here last year when AMPAS passed).  Screeners were shipped.
I think "The Messenger" has a great shot here, but shipping 10,000 DVDs is a bit expensive for a company like Oscilloscope, so it didn't happen.  Plenty of screenings were set up, however, so here's hoping.  "The Hangover" also wasn't sent out, so that might not be the smart choice many think it is, but again, populist films find a home here year in and year out.  Maybe it'll be a fun surprise.
Speaking of populist entertainment, "Funny People" and "It's Complicated" DID go out, but I don't know.  The Judd Apatow film wasn't on par (most would agree) with his prior two nominated scripts, while Nancy Meyers — really?  Well, she did get a Golden Globe nomination (not that that really matters).  But I think she might find her way to the list at the end of the day.
Oh, and "Bright Star" may have been ruled an adaptation (for whatever asinine reason) by the Academy, but the guild just so happens to (wisely) consider it original, so perhaps Jane Campion has a play here.  Screeners were not shipped.
If something else slides in instead, plug it in for my final pick, about which, all I'm saying is: "Titanic" was nominated.  (Though, FYI, screeners were not shipped, but at $1 billion and counting, I imagine they've seen it.)
My guesses:
Best Original Screenplay
"(500) Days of Summer" (Scott Neustadter, Michael H. Weber)
"Avatar" (James Cameron)
"The Hurt Locker" (Mark Boal)
"It's Complicated" (Nancy Meyers)
"A Serious Man" (Ethan Coen, Joel Coen)
(other possibilities: "Bright Star," "Funny People," "The Hangover," "The Messenger")
Your thoughts/predictions?  Speak up!