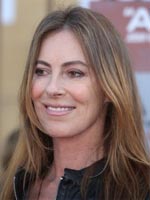 After yesterday's DGA announcement, there was a number of comments (some ecstatic, some more cynical) made about its demographic makeup of the nominees being more diverse than usual.
Where most years see white men fill every space on the ballot, this year features both a female and a black contender (a gay man, at that) in the lineup — the seventh and first in DGA history, respectively.
Trivia value notwithstanding, is this important? Does it mean that their artistic achievements should be measured any differently from those of their white, male peers?
Of course not. "The Hurt Locker" would be as stirring and distinctive a film had it been directed by someone with testicles — and, though some will say otherwise, I think it would still have caught critics' and awards voters' fancy. A great movie is a great movie is a great movie, after all.
This issue is argued from both ends in an indieWIRE piece by Matthew Hammett Knott, who ultimately concludes that, imperfect world that this is, Kathryn Bigelow's gender is important:
"The Hurt Locker" is an action film, a genre typically the preserve of male directors. Many critics have expressed delight that Bigelow is receiving such acclaim for a film that is so atypical to the type of films women are usually allowed to direct … In an ideal world, [her gender] would be a fact barely worth mentioning. But the status quo for women in Hollywood is far from ideal, and part of the route towards equality and opportunity involves expanding the perception of what it is possible for female filmmakers to achieve. I recently had a conversation with a teenager who simply assumed "The Hurt Locker" was directed by a man. In which case, periodically highlighting Kathryn Bigelow's gender may be no bad thing.
As much as I love her film on its own merits, I have to agree. It's hard for me not to get excited about the possibility of seeing Kathryn Bigelow become the first female Oscar winner for Best Director — mostly because it would be due recognition for a remarkable, long-serving artist, but also because it would be a small step towards changing the widespread perception of Hollywood as a boys' club.
It would be unwise to place weighty expectations of sweeping change on a single award: after all, eight years after Halle Berry's history-making Oscar win, plum parts for black actresses are still thin on the ground. Still, after a year which has seen numerous critics and journalists pick up on the unusual prominence of female directors in 2009 — from the multiplex territory of Nancy Meyers to the arthouse fringes of Claire Denis — an Oscar for Bigelow would help keep that narrative aloft in the industry.
All that, and it'd be for the year's most broadly acclaimed film, fending off any accusations of politically correct voting. It's too good (and currently rare) an opportunity to miss.