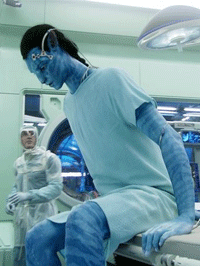 *All historical figures cited are adjusted to today's dollars.
Barring a catastrophe, "Avatar" should spend a comfortable fourth weekend at the top and cross $400 million in the process. That would make 2009 the first year since 2004 to have two films cross that milestone. It would also make "Avatar" the second-fastest film to hit that mark, after "The Dark Knight."
It took "Titanic" 36 days to reach $400 million and it only had $265.1 million at this point in its epic run. Still, there's no way in hell "Avatar" can repeat the four month run at the top that James Cameron's last film managed, or it's $943.3 million final gross.
Competition, if you can call it that, comes from three new releases with the stench of January seeping off their posters and trailers. Lionsgate hops on the vampire gravy train with "Daybreakers" featuring a cast that should know better. "Hostel" and "Rambo" have done well for the studio in Januaries of the past but I don't see much more than $14 million heading this way.
Amy Adams is doing her typecast image no favors by appearing in "Leap Year," with Matthew Goode taking second billing. I follow movies for a living and I barely know who Matthew Goode is, so she shouldn't expect much help from him in drawing the crowds.
A curious side note is that I think the goatee he sports on the poster might be the first facial hair allowed on a romantic male lead since the 1980s. Anyway, this is no "Bride Wars" and should max out at $12 million.
Finally, Michael Cera tries on his best Van Damme with "Youth in Revolt." Believe it or not, this is really only Cera's fifth film in a leading role and "Nick and Norah's Infinite Playlist" is his lowest earner with $31 million. His latest should easily replace that as I can't see it opening with more than $6 million this weekend.
Drops all around should be steep as there are no more holidays to inflate the numbers and the January doldrums are set to kick in. "Sherlock Holmes" and "Alvin and the Chipmunks" still could have enough steam to finish in the top three but all eyes will be on "Avatar." If it drops any less than 35%, then all bets are off, but if it's more like 45%, then the Earth can start spinning normally again.
What do you guys think?