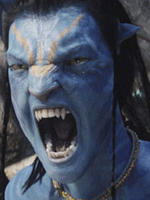 Peter Bart decides to call a spade a spade as it pertains to the Oscar race.  James Cameron's "Avatar" is "the betting favorite to win best picture," he writes.  But more importantly, he brings up the solid point that the film's potential AMPAS success could be the ratings shot in the arm the show has been looking for.  (And guess what?  They didn't need to go to 10 nominees to get it.)
Writes Bart:
Since it takes a populist movie to pump life into the Oscar ratings, "Avatar's" box office largesse will likely translate into another "Titanic"-like bonanza. Back in 1998 some 55 million viewers tuned in, while last year's "Slumdog" siesta totaled a mere 36.3 million…

We realize that the Oscar show's new producing team of Adam Shankman and Bill Mechanic is hard at work on plans to enliven the broadcast, but they are also keenly aware of the ratings realities. A movie like "There Will Be Blood" does not mean there will be audiences. The awards process is energized when folks out there have actually seen at least one or two of the movies being honored.
Okay, so far so familiar.  But I have to say, in the last year or so, I've slowly lost the conviction that popular films in the mix would yield a considerable amount of viewership.  I think the problem is a bit less superficial than that.  At the end of the day, the issue is the Oscars being the last in a long line of (televised) awards shows.  Fatigue is the enemy, not cinema ignorance.  I happen to know plenty of people who watch the Oscars simply to discover new films they should see.
You really want to move the needle, Academy?  Go ahead and shuffle your little awards show to the end of the year as a true wrap-up, not three months into the new year when any and everyone else has had their say.  It'll probably help the log-jam of December titles, too.  Ah, who am I kidding?  It'll never happen.
Anyway, back to Bart.  He does bring up an interesting point as it pertains to a potential Bigelow vs. Cameron clash in the Best Director category:
But here's the other possible scenario: If Kathryn Bigelow's "Hurt Locker" wins best picture and her ex-husband has to settle for best director, that could create strong melodrama as well as strong ratings. The Cameron-Bigelow union was put into turnaround in 1991. They're still friendly, however, and even trade notes on each other's first cuts.

That's why Cameron and Bigelow seem like a lot sexier casting as star players than, say, the Coen brothers.
He then goes on to plug colleague Bob Hofler's book "Party Animals" for the second straight day (and with basically the same anecdote from within, as well).  Give it a read at Variety.