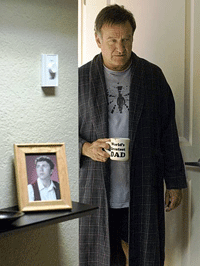 Unlike Kris, I can't quite come to the conclusion that 2009 was the best year of the decade. Nor can I call it the "year of the woman," the "best year for animation" or "the year James Cameron brought a sense of wonder back to the cinema." The only thing I can personally label 2009 is "The Year I Put in the Work."
In other words, as my taste drifts further and further away from the mainstream options, it becomes harder and harder to see the films that excite me. We're talking about a list where the top 9 films earned a combined $2.3 mil at the box office, which "Avatar" will make in the time it takes you to read this article.
Now, I am well prepared to field some comments on this thread labeling me a "snob" or an "elitist." I am also willing to bet that these comments will come from people who have not seen many of the films I will single out.
And who can blame them? Many of them played for exactly one week in a small, L.A. theater and then vanished into ancillary market oblivion. If I wasn't diligent about seeing them that week then it was tough luck, and it took serious motivation to keep that going 52 weeks a year. But, my goodness, the rewards!
In the end, I didn't see everything I wanted to. "Lorna's Silence," "The Beaches of Agnes," "Beeswax," "Collapse," "Tony Manero" and "The White Ribbon" all passed me by and could easily be included on this list in the future. On the flipside, interesting films I did see like "Wah Do Dem," "Modern Love is Automatic" and "Alexander the Last" will never see the light of day in theaters and had to be disqualified from this list.
I know Guy and Kris went with honorable mentions and a top 10, but I'm pushing forward with a straight top 20. Check back tomorrow for my dream ballot.
#20
"ANTICHRIST"
Directed by Lars von Trier
Lars Von Trier's personal therapy session may not work 100% as a film, but as an expression of grief, anxiety and self-hatred from an irreplaceable cinematic artist, it's a marvel. What other director, film after film, comes with such stylistic diversity? Enlisting Anthony Dod Mantle and entering the horror genre sees Von Trier offer up his most visually arresting film since "The Element of Crime" and elicits monumental performances from Charlotte Gainsbourg and Willem Dafoe in the process.
#19
"CORALINE"
Directed by Henry Selick
Is it just me or did animation get a little dark this year? "The Princess and the Frog" would have scared me when I was a kid but "Coraline" scared me now. Henry Selick and his team of artists have beautifully captured the way a child channels their frustrations into imagination in order to play out their rebellion. Sumptuously designed and executed, seemingly with adults in mind, the film proved much more rewarding to me than any recent Pixar venture.
#18
"ADVENTURELAND"
Directed by Greg Mottola
Less abrasive than "Superbad" but no less truthful to youth, Greg Mottola's third feature delicately straddled the line between tried and true coming-of-age tropes and subversive character developments. The whole thing is anchored by Jesse Eisenberg's charming, nervous performance (does he give any other kind?) and a talented supporting cast. If only Bill Hader and Kristen Wiig weren't around to turn their scenes into a bad SNL skit, the film might have placed much higher.
#17
"MOON"
Directed by Duncan Jones
For all the talk of "Avatar," "Star Trek" and "District 9" encapsulating a return to bold, intelligent science fiction, only a low budget film from the son of David Bowie actually seemed concerned with exploring ideas from first frame to last. Sam Rockwell gives a reliably excellent performance and the visual effects earned this film the honor of making me murmur to myself, "How did they do that?" for the first time in years.
#16
"THE GIRLFRIEND EXPERIENCE"
Directed by Steven Soderbergh
Steven Soderbergh's intimate (but not that kind of intimate) look at a high-priced call girl manages to serve as a fascinating look at what the rich and lonely are and aren't willing to compromise in a time of economic uncertainty.The main character's  rocky relationship with a far too understanding boyfriend is also interestingly explored, as is the need for physical attention that is subtly juxtaposed in his work as a personal trainer.
#15
"THE INFORMANT!"
Directed by Steven Soderbergh
This Soderbergh guy is going places! In all seriousness, Warner Bros. deserves special recognition for bankrolling this film, "Observe and Report" and "Where the Wild Things Are" because all three feel like final cuts turned in under the nose of studio brass who expected something else when issuing a green light. In the case of "The Informant!," a corporate whistle-blowing expose becomes a breezy farce with as many identity issues as its protagonist. Damon keeps the film grounded with an assured, layered performance worthy of Oscar attention.
#14
"TREELESS MOUNTAIN"
Directed by So Yong Kim
The two most believable child performances since "In America" anchor a story about abandonment that doesn't go looking for cheap sympathy. Nor does it vilify the adults who refuse to take responsibility for the two leads. Instead, it focuses on the unbreakable spirit of two sisters and their journey towards premature adulthood.
#13
"FANTASTIC MR. FOX"
Directed by Wes Anderson
Wes Anderson's same obsessive attention to detail that has made his last few live action features a ponderous bore bring this stop-motion adaptation of Roal Dahl to vivacious life. Briskly paced with lively voice work, the film never rests on the laurels of its design and showcases great characters, thrilling adventure and droll humor, just like Dahl's work.
#12
"STILL WALKING"
Directed by Hirokazu Koreeda
Another film about the bonds of family, given added depth by the importance of tradition and ancestry in Japan. Three generations of family are explored over the course of one overnight visit and Hirokazu Koreeda keeps things interesting without resorting to any major secrets being revealed or bombshells being dropped. Every relationship is given the screen time and breathing space to form something interesting and unlike a day spent with your real family, it zooms by quite enjoyably.
#11
"WORLD'S GREATEST DAD"
Directed by Bobcat Goldthwait
Who would have thought that Bobcat Goldthwait would turn into an acclaimed writer/director? Certainly not me, and I only checked this out after numerous recommendations from friends I trust, and this is why I trust them. It's almost an experiment in how outlandish a film can allow its plot to get away with it by keeping the characters and their reactions truthful. Robin Williams reduced to tears looking at a rack of porn at a newspaper shop is just one hilarious and touching moment that should never in a million years work, but does.
#10
"WHERE THE WILD THINGS ARE"
Directed by Spike Jonze
This Maurice Sendak adaptation makes for a nice live action companion piece to "Coraline," as Spike Jonze also takes aim at the way children learn through their imaginations. The way each of the filmmakers brought the Wild Things to life, both technically, and through vivid characterization, is a true wonder and the exploration of jealousy, rage and sorrow was completely unexpected. Many thought that made it inappropriate for kids, but unlike Jonze and his film, that is grossly underestimating them.
#9
"YOU, THE LIVING"
Directed by Roy Andersson
I don't pretend to know what Roy Andersson is getting at throughout the course of this film. He calls it "a film about the grandeur of existing" and it may well be as pretentious as that makes it sound. That actually sounds optimistic, though, and I wouldn't blame someone for leaving this film thinking that Andersson hates people and wants us to laugh at them. Finding humor in tragedy and loneliness is really one of the only things that ties this series of vignettes together but it's so watchable because I'm in love with the aesthetics of his films. Beautiful static frames and very deliberate blocking that can get a laugh out of someone just appearing in a doorway. The sound design, the editing, the timing of the dialogue is all slightly surreal and executed with the precision of a tightrope walker. No one else makes films quite like it.
#8
"MEDICINE FOR MELANCHOLY"
Directed by Barry Jenkins
This simple story about two people trying to get to know each other after a one night stand is given added depth by a look at the gentrification and racial divisions of San Francisco. What has the ingredients to be just written off as a "Before Sunrise" copycat instead becomes a beautiful look at finding a connection amid the bigger concern of finding your place in the world. Beautifully shot on HD by James Laxton and featuring strong performances and pitch-perfect music selections, the film is something unique, both in the context of the mumblecore movement and in African American cinema in general.
#7
"IN A DREAM"
Directed by Jeremiah Zagar
I can't speak highly enough of this documentary. Jeremiah Zagar initially begins making it about his father and his delirious mosaic art that covers a couple of Philadelphia city blocks, but it quickly turns into something else when the elder Zagar admits to cheating on his wife with his assistant. The camera continues to capture the family trying to save itself from that fissure while continuing to asses the artist's relationship to his art.  Zagar expertly melds the cinematography, editing and music into a visual mosaic that more than equals his father's work on the screen.
#6
"SILENT LIGHT"
Directed by Carlos Reygadas
A film about Mexican Mennonites with a six minute opening shot of the sun rising is certainly not going to be everyone's cup of tea, but for patient viewers, few experiences could be as rewarding. Hints of Dreyer and Bergman, but undeniably modern as well, the questions of love, family, fidelity, life and death are all explored in achingly gorgeous long takes.
#5
"HUMPDAY"
Directed by Lynn Shelton
Hollywood needs to study what is being done here, with three actors, a rented camera and a couple thousand bucks. Like "World's Greatest Dad," Lynn Shelton's "Humpday" pushes and proves the notion that no high-concept conceit is too ridiculous to buy as long as the reactions by the characters are honest and realistic. I didn't see a funnier film all year and it goes places with "bromance" that the filmmakers behind "I Love You, Man" wouldn't even consider because they are too busy constructing tired devices like the "bad date montage." In a year where the Academy is surely about to bestow its first Best Director trophy upon a female tackling the male psyche, I can't help but think they're awarding the wrong one.
#4
"SOMERS TOWN"
Directed by Shane Meadows
Some people may call this film too "slight," but that word was never a pejorative to me in film. Thomas Turgoose delivers on the promise of his performance in "This is England" as a young runaway who makes friends with a poor, Polish immigrant in a working class British town. Shot exquisitely in black and white and not a second longer than it needs to be, Meadows seems incapable of hitting a false note and is on quite a roll.
#3

"THE MAID"
Directed by Sebastián Silva
Catalina Saavedra towers over any other female performance this year as the titular character dedicated to her profession and her employers. The plot is standard character redemption stuff but Saavedra and director Sebastian Silva's handling of her transformation from raging bitch to tolerable human being should be studied for its subtlety and realism. If that wasn't enough, she is given a specific dynamic with each family member that is pleasantly explained and explored for humor and depth.
#2
"MUNYURANGABO"
Directed by Lee Isaac Chung
Midway through watching this film, I pinpointed why I liked it so much. For films from Africa to make it to the U.S., they usually have to be about some sort of political strife or have some lesson for us Westerners to glean. This film felt like a regular movie from a different region that had little or no interest in appealing to other audiences or their politics. Which is why I was so shocked to find out it was made by a Korean dude from Arkansas. And in the end, of course, it does have something to say about the region, and does so with bristling intensity by way of a 10-minute poem delivered directly to the camera in a one take close-up.
#1
"SUGAR"
Directed by Anna Boden, Ryan Fleck
In a monumental leap forward for the directing duo behind "Half Nelson," there's not a false note to be found in this wonderfully original story about a Dominican baseball player attempting to adjust to life in America and the minor leagues. More than once I thought I had the story pegged only to discover that I wasn't even close and the filmmakers were taking a much more challenging road.  The final shot is heartbreaking and inspiring at the same time. Seriously, I hate baseball and I love this movie.
Finally, if I may indulge myself, I'd like to share my dream ballot for the Oscars. I won't bother with shorts categories or original song and I've combined the sound categories into one, because I'll be damned if I can tell the difference between sound editing and sound mixing. I can tell which films used sound effectively and which didn't, though. Winners in bold italics.
Best Picture
"Humpday" (Magnolia)
"In a Dream" (International Film Circuit)
"The Maid" (Elephant Eye Films)
"Medicine for Melancholy" (IFC Films)
"Munyurangabo" (Film Movement)
"Silent Light" (Palisades Tartan)
"Somers Town" (Film Movement)
"Sugar" (Sony Pictures Classics)
"Where the Wild Things Are" (Warner Bros.)
"You, the Living" (Palisades Tartan)
Best Director
Lars Von Trier – "Antichrist"
Barry Jenkins – "Medicine for Melancholy"
Carlos Reygadas – "Silent Light"
Shane Meadows – "Somers Town"
Anna Boden, Ryan Fleck – "Sugar"
Best Actor
Tom Hardy – "Bronson"
Matt Damon – "The Informant!"
Sam Rockwell – "Moon"
Michael Stuhlbarg – "A Serious Man"
Thomas Turgoose – "Somers Town"
Best Actress
Charlotte Gainsbourg – "Antichrist"
Carey Mulligan – "An Education"
Maria Onetto – "The Headless Woman"
Catalina Saavedra – "The Maid"
Hee-Yeon Kim – "Treeless Mountain"
Best Supporting Actor
Benoit Poelvoorde – "Coco Before Chanel"
Anthony Mackie – "The Hurt Locker"
Christoph Waltz – "Inglourious Basterds"
Piotr Jagiello – "Somers Town"
Daryl Sabara – "World's Greatest Dad"
Best Supporting Actress
Rosamund Pike – "An Education"
Melanie Laurent – "Inglourious Basterds"
Mariana Loyola – "The Maid"
Mo'Nique – "Precious"
Kirin Kiki – "Still Walking"
Best Original Screenplay
"Inglourious Basterds" – Quentin Tarantino
"Somers Town" – Paul Fraser
"Still Walking" – Hirokazu Koreeda
"Sugar" – Anna Boden, Ryan Fleck
"World's Greatest Dad" – Bobcat Goldthwait
Best Adapted Screenplay
"Coraline" – Henry Selick
"Fantastic Mr. Fox" – Wes Anderson, Noah Baumbach
"The Informant!" – Scott Z. Burns
"Public Enemies" – Ronan Bennett, Michael Mann, Ann Biderman
"Where the Wild Things Are" – Dave Eggers, Spike Jonze
Best Cinematography
"Antichrist" – Anthony Dod Mantle
"The Headless Woman" – Barbara Alvarez
"The Limits of Control" – Christopher Doyle
"Medicine for Melancholy" – James Laxton
"Silent Light" – Alexis Zabe
Best Editing
"District 9" – Julian Clarke
"The Girlfriend Experience" – Steven Soderbergh
"The Hurt Locker" – Chris Innis, Bob Murawski
"Still Walking" – Hirokazu Koreeda
"Sugar" – Anna Boden
Best Art Direction
"District 9" – Philip Ivey
"Fantastic Mr. Fox" – Nelson Lowry
"Public Enemies" – Nathan Crowley
"Where the Wild Things Are" – K.K. Barrett
"You, the Living" – Magnus Renfors, Elin Seqerstedt
Best Costume Design
"Brüno" – Jason Alper
"Coco Before Chanel" – Catherine Leterrier
"The Limits of Control" – Bina Daigeler
"Public Enemies" – Colleen Atwood
"Where the Wild Things Are" – Casey Storm
Best Original Score
"Fantastic Mr. Fox" – Alexandre Desplat
"The Informant!" – Marvin Hamlisch
"The Limits of Control" – Boris
"A Single Man" – Abel Korzeniowski
"Where the Wild Things Are" – Carter Burwell, Karen O.
Best Documentary Feature
"The Garden" (Oscilloscope Laboratories)
"In a Dream" (International Film Circuit)
"No Impact Man" (Oscilloscope Laboratories)
"Tyson" (Sony Pictures Classics)
"The Windmill Movie" (The Film Desk)
Best Foreign Feature
"The Maid" (Elephant Eye Films)
"Silent Light" (Palisades Tartan)
"Somers Town" (Film Movement)
"Still Walking" (IFC Films)
"You, the Living" (Palisades Tartan)
Best Animated Feature
"Coraline" (Focus Features)
"Fantastic Mr. Fox" (20th Century Fox)
"The Princess and the Frog" (Walt Disney Pictures)
Best Sound
"Antichrist"
"District 9"
"The Headless Woman"
"The Hurt Locker"
"Public Enemies"
Best Makeup
"Antichrist"
"District 9"
"Star Trek"
Best Visual Effects
"District 9"
"Moon"
"Where the Wild Things Are"
Blam! Anybody still reading this far down? All in all, I had a great time at the movies in 2009 and can't wait to get my 2010 started with "Youth in Revolt" this weekend!  Feel free to chime in with thoughts and comments below.
(Chad Hartigan contributes weekend box office analysis for In Contention via his Friday Forecast and Sunday Cents columns.)