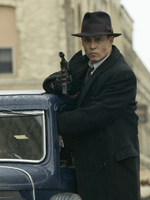 I've had my eye on these because I've always felt that, if "Avatar" could slide in here, it might be able to get over any weird bias against the way it was designed (largely in computer, etc.). But after sitting down with Robert Stromberg yesterday, and with these nominations in mind, I feel better about its prospects for Oscar in the category now.
I'm happy to see "The Lovely Bones" recognized, though I'm consistently baffled as to where the distinction is between "contemporary" and "period" with this film.  And can I also say, looking out over the slate of nominees, this is a damn fine year for art direction?  The 10 in period and fantasy could easily find their way to nominations.
The obvious snub here is kind of a big one, I'd say: "Nine." Despite the quality of the film, the below-the-line elements were exemplary.  I guess it wasn't enough to overcome the film's overall critical reception.  Oh, and big ups to Jess Gonchor, who I've said since day one was a threat for his and set decorator Nancy Haigh's meticulous work on "A Serious Man." Stay tuned next week for a Tech Support interview with the principals from that film
Nominees after the jump.
Period film
"A Serious Man," Jess Gonchor
"Inglourious Basterds," David Wasco
"Julie & Julia," Mark Ricker (Editor's Note: ?)
"Public Enemies," Nathan Crowley
"Sherlock Holmes," Sarah Greenwood
Fantasy film
"Avatar," Rick Carter, Robert Stromberg
"District 9," Philip Ivey
"Harry Potter and the Half-Blood Prince," Stuart Craig
"Star Trek," Scott Chambliss
"Where the Wild Things Are," K.K. Barrett

Contemporary film
"Angels & Demons," Allan Cameron
"The Hangover," Bill Brzeski
"The Hurt Locker," Karl Juliusson
"The Lovely Bones," Naomi Shohan
"Up in the Air," Steve Saklad