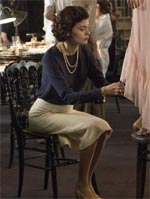 For reasons I've never been able to determine, BAFTA chooses to reveal its nominees for Best Foreign Language Film two weeks before revealing their full nomination list. Way to make a ghetto category seem even more so, but … anyway. The nominees are:

"Broken Embraces"
"Coco Before Chanel"
"Let the Right One In"
"A Prophet"
"The White Ribbon"
The last three are both inevitable and deserving contenders, but the first two reek of autopilot voting. I bow to no one in my love for the man's work, but most would agree that "Broken Embraces" is mid-range Almodóvar at best.
As for "Coco Before Chanel," well … words fail me. French cinema alone produced a bevy of more interesting contenders — "35 Shots of Rum," anyone? "Seraphine?" Hell, "The Class" was eligible this year. In my best Miranda Priestley impression, am I reaching for the stars here?
(Before anyone asks, by the way, "Let the Right One In" was a spring 2009 release here in the UK, hence its eligibility. US critics' darling "Summer Hours" was a summer 2008 release, hence its ineligibility.)
The BAFTA nominations are announced on 21 January. More on their just-revealed longlists coming shortly.