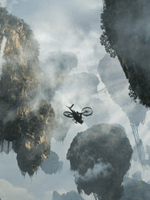 And they are, via AMPAS press release:
"Avatar"
"District 9"
"Harry Potter and the Half-Blood Prince"
"Star Trek"
"Terminator Salvation"
"Transformers: Revenge of the Fallen"
"2012"
And the three I still expect to get in are in the mix, so, whew.  I think we all know what will eventually win here, but if there's a surprise nomination waiting to happen, I'd say it's "2012."
"On Thursday, January 21, all members of the Academy's Visual Effects Branch will be invited to view 15-minute excerpts from each of the seven shortlisted films," the release reads.  "Following the screenings, the members will vote to nominate three films for final Oscar consideration."
What are your visual effects predictions?