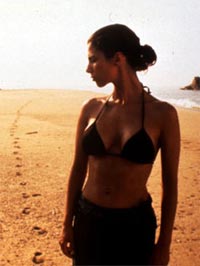 And then there were ten.
Before I wrap up the list that I've trickled out over the last five days, I suppose I should write a few words on the decade that was. I entered the 2000s as a 16 year-old boy in Johannesburg who thought he knew a lot about movies. I left it as a 26 year-old man in London who knows a lot more than he did then — but realizes that he knows a lot less. There is still so much to see that I've barely touched upon — from this past decade alone.
Probably no filmgoing decade in my lifetime will be as crucial to me as the one that passed, in terms of the shift and growth in my sense of how to read (and write) film.
I may have already known that I loved movies, but in the 2000s I gained a sharper sense of how to love them, what I really respond to in a film — and the 50 titles gathered here (along with many, many others) helped fine-tune that notion.
With that kind of personal learning curve attached to the decade, it's hard to stand back and judge how it might stack against previous ones; strong, weak or average, it'll always feel like my decade. As I compiled the list, however, did arrive at the conclusion that it started better than it finished. Sheer mathematics supports this personal view — the top 10 films I'm about to reveal all landed in the decade's first half, and I don't think that's merely down to the advantage of distance.
One brand-new film, for example, could have broken that pattern in the top 10 — which is where I'd like to hand some sort of special citation to my #1 film of 2009, Claire Denis's "White Material." In my first draft of the list, it slid comfortably in at #9.
But after due consideration, I decided that, while could afford to be cheeky with my 2009 list, it would be cheating to put a film no one has yet seen outside of a festival environment in a survey of the decade's greatest. If you're not bothered by that, feel free to mentally adjust the list; otherwise, the "best of the 2010s" honors start here.
And with that, the Top 10:
#10

"SPIRITED AWAY"
Directed by Hayao Miyazaki, 2002

After a decade that has seen such bold formal leaps in the medium of animation, I surprised myself a little by finding room for only one such film in the list. But for me, even the most sophisticated of Pixar's works can't compete with the storytelling breadth, and loopy visual extravagance, of Miyazaki's new-standard fairytale. Narratively knotty where even more adult-oriented fantasy seeks short cuts, "Spirited Away" channels Lewis Carroll and "The Wizard of Oz" while remaining, surely and strangely, itself.
#9

"AMORES PERROS"
Directed by Alejandro González Iñárritu, 2000

For Iñárritu and writer Guillermo Arriaga, the repetition – to ever more complicated structural effect – of this film's triptych narrative form through "21 Grams" and "Babel" reaped slightly diminishing returns. That, however, is no reason not to marvel at the density and dexterity of its execution in this sucker-punch of a debut. The key to its success lies in the wildly differing tonal and emotional textures of its three stories, spanning mournful character study, cruel social satire and fizzing urban thriller.
#8

"KILL BILL VOL. 1"
Directed by Quentin Tarantino, 2003

A rollicking feat of high-wire filmmaking that has no right to work, and yet arrogantly, deliciously does: this in spite of a story that was seemingly plotted on a couple of dayglo Post-It notes, without so much as the courtesy of an ending. (Yes, yes, we get there in Vol. 2, and you know what? It's not as much fun.) But the set pieces are so masterful as to render such technicalities trivial, while Uma Thurman's graceful, ferocious and hilariously humorless Bride is a vital film-carrying creation.
#7

"Y TU MAMA TAMBIEN"
Directed by Alfonso Cuarón, 2002

Between this film, "Children of Men" and the only "Harry Potter" film with an ounce of directorial personality, Cuarón undoubtedly enjoyed one of the most intriguing decades of any filmmaker. His masterpiece, however, lies in his most modest effort, a teen comedy with all the empathy, human interest and joyful dirtiness that tag so rarely promises. Breaks your heart when you least expect it, and then does it all over again in one of the most quietly shattering final scenes in all cinema.
#6


"BIRTH"
Directed by Jonathan Glazer, 2004
Shamefully dismissed by critics upon its release, Glazer's magnificently disconcerting psychological thriller represented a creative quantum leap from his more acclaimed debut "Sexy Beast." Nicole Kidman's monumental, career-best performance deserves its own tribute, but it's only of a piece with the pristine craft on display here, from the minty chill of Harris Savides' lensing to the hypnotic swirls of Alexandre Desplat's score. It all comes to a head in that opera sequence, a small cinematic miracle in itself.
#5

"ETERNAL SUNSHINE OF THE SPOTLESS MIND"
Directed by Michel Gondry, 2004

Regular readers will agree that any film that can unite Kris, Chad and me in agreement (hell, even a few Oscar voters, too) has got to be packing some special sauce. And "special" this bittersweet tale of hearts lost and found is, fleshing out the cold formal genius of its story architecture with a joyfully candid expression of what it means to be in love in the real world – or otherwise. Clever but never remote, fanciful but never fey, with two lead performances their creators will be lucky to surpass.
#4


"DANCER IN THE DARK"
Directed by Lars von Trier, 2000

The soaring high point of a productive decade for modern cinema's most brazen experimenter, "Dancer in the Dark" put forth the most aggressive reimagining of the thematic boundaries of screen musicals since "Cabaret" 28 years before it. Foreshadowing the concerns of American community the outsider that would take hold in "Dogville" three years later, von Trier makes a stunning virtue of their incongruence with his lavish, ecstatic production numbers, aided immeasurably by the naïve wonder that is Björk.
#3


"TALK TO HER"
Directed by Pedro Almodóvar, 2002

Spanish-language cinema has been in notably rude health this decade, but its crowning achievement was also that of a comfortably established auteur. At once comfortable in its impeccable polishing of long-practised manners of mise-en-scène, yet restlessly inquisitive about its own social, sexual and sensual statements, this is the emphatically identifiable work of an artist at the peak of his powers, a status since borne out by the soft, if not unenjoyable, slide towards "Broken Embraces." Let's see what the next decade brings.
#2


"LANTANA"
Directed by Ray Lawrence, 2001

Oh, how I was tempted to console the commenters concerned that "Jindabyne" would be loris-like British-Australian director Ray Lawrence's only entry in the Top 50. Just imagine if he deigned to make more than one film a blue moon. Would he maintain the searing insight and intensity of this rich, rewardingly tangled domestic thriller? A film that feeds not just my filmgoing passions, but my writing ones, too: a well-thumbed copy Andrew Bovell's screenplay has a permanent place on my bedside table.
#1


"MOULIN ROUGE!"
Directed by Baz Luhrmann, 2001
What do they teach people Down Under? Luhrmann's unruly, unhinged and thoroughly rhapsodic cinematic burlesque has rewarded me with more replay value than any film of the last ten years. If its overwhelming visual and sonic design keeps finding new ways to take your breath away before you've regained it, the sweet, giddy sincerity of its dime-store romance gives it a simple human core. A one-of-a-kind film that inspires a little more belief in it – and its corny, unimpeachable values – every single time I see it.
And there you have it. I only just noticed how nicely my #1 and #50 picks bookend each other stylistically, and I'm rather content with that. Thanks for your lovely response to my musings, but if you missed any of the write-ups, here are #41-50, #31-40, #21-30 and #11-20. Finally, in full, my top 50 films of the 2000s:
1. "Moulin Rouge!"
2. "Lantana"
3. "Talk to Her"
4. "Dancer in the Dark"
5. "Eternal Sunshine of the Spotless Mind"
6. "Birth"
7. "Y tu mama tambien"
8. "Kill Bill Vol. 1"
9. "Amores Perros"
10. "Spirited Away"
11. "Far From Heaven"
12. "Before Night Falls"
13. "Time Out"
14. "Morvern Callar"
15. "Mulholland Drive"
16. "Dogville"
17. "Caché"
18. "This Is England"
19. "Heaven"
20. "Junebug"
21. "Brokeback Mountain"
22. "The Class"
23. "Beau Travail"
24. "In the Mood for Love"
25. "Jindabyne"
26. "No Country for Old Men"
27. "Once"
28. "Spider"
29. "The Departed"
30. "Wolf Creek"
31. "Last Resort"
32. "Wendy and Lucy"
33. "There Will Be Blood"
34. "Fish Tank"
35. "The Bourne Ultimatum"
36. "A Prophet"
37. "Moolaadé"
38. "Me and You and Everyone We Know"
39. "Intimacy"
40. "The Good Girl"
41. "The Hurt Locker"
42. "The Beat That My Heart Skipped"
43. "Lust, Caution"
44. "Iraq in Fragments"
45. "Jesus' Son"
46. "Japanese Story"
47. "Saraband"
48. "City of God"
49. "Zoolander"
50. "Devdas"