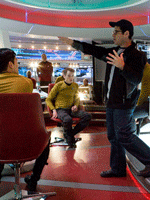 Tomorrow the Directors Guild of America will chime in with its list of nominees for the 2009-2010 film awards season.  Long considered to be the best "predictor" of the Oscar game (as in, the DGA winner typically wins the Oscar for Best Director, and Best Director often matches up with Best Picture), this guild's shenanigans makes for a heavily anticipated harbinger of the season.
Then again, maybe not.  In the last few years, names like Christopher Nolan, Sean Penn, Julian Schnabel and Bill Condon have popped up on the list, almost as if the guild was concerned with predicting the Best Picture race as it had done, five-for-five, for four straight years prior.  Those picks reflected the buzz of the early-year hour in each case, but ultimately, the Academy went a different direction with its Best Picture slate.
That said, "the 10" makes for an entirely different dynamic.  I actually expect (or maybe "hope" is the word) tomorrow's announcement to inject some intrigue into the proceedings.  I think there will be someone shortlisted who catches a great many off guard.  But who will it be?
Of course, the "safe" line-up, in so many ways, would be the five Best Picture frontrunners.  So:
James Cameron, "Avatar"
Kathryn Bigelow, "The Hurt Locker"
Quentin Tarantino, "Inglourious Basterds"
Lee Daniels, "Precious"
Jason Reitman, "Up in the Air"
But I get the feeling Daniels is in something of a weak spot.  So who slides in?
If you still want to play it safe, I would suggest going with Clint Eastwood and the dubious "Invictus" for that honor.  The film simply caught on despite a thin, flat narrative.  I could easily see him slip in, but maybe DGA voters are smarter than I'm giving them credit for.  After all, few would consider the film top-tier Eastwood, and he's only managed to make it into the derby when he reached the bar he's set for himself.
Let's venture further out.  Frankly, I think Lone Scherfig would be a smart guess.  This is "the year of the woman," yes, but "An Education" is also a film that managed to chisel a fairly significant place for itself in this race with a PGA nomination this week, which followed a SAG ensemble bid a few weeks back.  This would be one more step toward completing the top guild quartet.  (It will likely be recognized by the writers as well.)
Truth be told, I really want to go with J.J. Abrams here.  The "Star Trek" director has plenty of friends and colleagues in the television ranks (who also vote here, in case you weren't aware), and so I'd imagine anyone from "Felicity" to "Alias," "Lost" to "Fringe" would want to chalk a nod up for him.  His work has employed a lot of people over the years.  And if he gets in, that would certainly go a long way toward securing his film a Best Picture nomination.  (Paramount has switched on the afterburners as of late.)
Instead I think I'm going to take a bit of a risk.  The "District 9" nomination from the PGA may have been much more telling than people realize.  Yes, it makes sense from a fiscal standpoint.  The film made money.  And it managed to do a lot with a modest budget.  But it was not a Hollywood production, after all.  It's inclusion is therefore somewhat surprising.
Two days after I wrote that "The Messenger" looked like it could slide into the Best Picture mix, I find myself thinking that "District 9" will, in fact, be the last film to fill out the slate.  It began with the producers speaking up yesterday and, if I were to hazard a guess, I think it will continue with a DGA nomination for director Neill Blomkamp tomorrow.  Plus, Academy members are and have been talking about the movie.  It's sticking.
But it could just as easily be Abrams and his film that makes the cut.  What do I know?  Alright, enough stalling.
My predictions:
James Cameron, "Avatar"
Neill Blomkamp, "District 9""
Kathryn Bigelow, "The Hurt Locker"
Quentin Tarantino, "Inglourious Basterds"
Jason Reitman, "Up in the Air"
What are your guesses for tomorrow's DGA announcement?  Have your say in the comments section below!