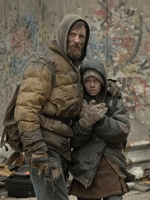 It seems Steve Pond was willing to track down the real reason The Weinstein Company hasn't sent screeners of its Oscar season hopefuls to the WGA, reacting to a story initially run by Kyle Buchanan at Movieline: three of them aren't even eligible, and one of them (which is all but dead this season) is better viewed on the big screen anyway.
Writes Pond:
The Weinstein Company didn't send out "Inglourious Basterds" screeners because "Inglourious Basterds" isn't eligible for the WGA Awards.

Neither is "A Single Man."

And neither is "The Road."

"Nine," written by WGA member Michael Tolkin and the late Anthony Minghella, a member of the WGA, East during his lifetime, is the only Weinstein film that's eligible, according to a spokesperson for the guild. And "Nine" plays much better on a big screen, it's still in theaters, and it doesn't really have much chance for a writing nod anyway.

So Harvey Weinstein didn't send out screeners to the WGA not because he dropped the ball, but because he understands how the guilds work and didn't feel like wasting money.
The reasons? Keep reading…
It seems like a no-brainer, I guess, but Quentin Tarantino, Tom Ford & David Scearce and Joe Penhall are not members of the WGA (not a deal-breaker) and, more importantly, their films were not written under the guild's Minimum Basic Agreement, according to Pond.
Indeed, the only WGA nod Tarantino has ever received was as part of the writing team on a "C.S.I" episode in 2006.  I spaced it and forgot he wasn't even a card-carrying member (which is probably surprising to some).  You don't HAVE to be a member to get nominated, mind you, but, again, your film has to be written under the guild's agreement (461 pages I don't feel like flipping through, so I'll take Pond at his journalistic word).
In any case, keep it in mind.  We'll preview the WGA awards on Friday.  The nominees will be announced Monday, January 11.