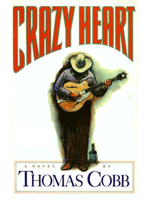 The USC Libraries has announced its list of contenders for the Scripter prize, which honors adapted screenplays, their writers and the source materials and authors that spawned them.
So, with that in mind, I'm not sure how the "District 9" nod is justified here in the slightest, given the stated intention of the award.* But that's another feather in the film's cap regardless.  It could be picking up a big head of steam here.  More on that when we preview the DGA nominations tomorrow.
A big congrats to Scott Cooper for finally getting some love of his own this Oscar season. I had a hunch he might show up here. Maybe this can help turn the corner for a film too many are quick to chalk up as "performance only."
I guess we can probably expect Jason Reitman and Sheldon Turner to walk away with the award, but as always, it's a refreshingly out-of-step line-up from the USC Libraries. Fight on.
Anyway, check out the nominees, via press release, after the jump.
"Crazy Heart" – Fox Searchlight Pictures
Scott Cooper, screenwriter
Thomas Cobb, author
"District 9" – Tri-Star Pictures
Neill Blomkamp, screenwriter and author
Terri Tatchell, screenwriter
"An Education" – Sony Pictures Classics
Nick Hornby, screenwriter
Lynn Barber, author
"Precious: Based on the Novel 'Push' by Sapphire" – Lionsgate
Geoffrey Fletcher, screenwriter
Sapphire, author
"Up in the Air" – Paramount Pictures
Jason Reitman, screenwriter
Sheldon Turner, screenwriter
Walter Kirn, author
*It turns out the rules of eligibility were expanded this year to include screenplays based on other screenplays, so Blomkamp's original screenplay, "Alive in Joburg," I imagine, was the source material considered.  I don't think it washes, but there you have it.  Last year the rules were expanded to include comic book adaptations.  Next year they'll be expanded to include original screenplays.  (Kidding.)