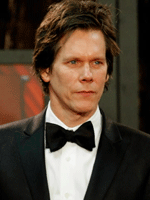 The press release, in part:
The Broadcast Film Critics Associa tion (BFCA) announced today that renowned actor and philanthropist Kevin Bacon will be presented with the third annual Joel Siegel Award by Meryl Streep at the 15th Annual Critics' Choice Movie Awards. The ceremony, hosted by Kristin Chenoweth, will air live on VH1 Friday, January 15, 2010 at 9:00 PM ET/PT

Given annually, this special award pays homage to beloved "Good Morning America" film critic and BFCA member Joel Siegel, who lost his long struggle with cancer in June, 2007.

Kevin Bacon is one of the foremost actors of his generation and has starred in over 50 films. His talent for balancing starring roles with powerful supporting characters on both film and stage has allowed him to build a varied and critically acclaimed body of work. Kevin has proven his talents in a wide range of film genres from action thrillers to romantic comedies to heavy dramas, and even the occasional musical. Kevin most recently starred in "Taking Chance" for which he received Emmy, Golden Globe and SAG Award nominations.