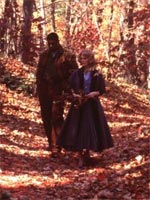 Okay, so I wasn't expecting "Wolf Creek" to be the most popular inclusion — though in putting it out there, I was glad to see the number of fellow cheerleaders I have for that one. Such sharing is the principal joy of doing such lists.
I doubt that any titles in today's group of ten are quite as contentious, though one received a far rougher ride from some major critics upon release than I think it deserved, and has rather disappeared from view in recent years. Keen-eyed readers will also notice my list's first overlap with Kris's best-of-decade collective — ironically, on a film that tends to divide opinion rather than unite it.
Several of you have asked, in comments and via email, about the films that would fill out my Top 100. I thought 50 films more than enough for me to write up, but since some readers are treating the project as the kind of playlist I had hoped for, I could be persuaded to offer an alphabetical, titles-only list of the also-rans.
The list continues after the cut.
#20
"JUNEBUG" (Phil Morrison, 2005)


Deserving of far more recognition than merely the plaudits for Amy Adams's extraordinary breakthrough performance, Morrison's perfectly pitched comedy of manners risks Southern caricature, but moves with its protagonist from brittle observation to large-hearted understanding.
#19
"HEAVEN" (Tom Tykwer, 2002)


In taking on the final screenplay of the late Krzysztof Kieslowski, the director of "Run Lola Run" always faced a tough critical crowd. But the director's kinetics and the writer's poetics make for a ravishing symbolic exercise, showcasing the finest work of Cate Blanchett's career.
#18
"THIS IS ENGLAND" (Shane Meadows, 2007)

Both a clear-eyed, stirring coming-of-age story and the most vivid, biting evocation of Thatcher's ailing, socially fractious Britain yet put on screen, Meadows's autobiographical study of a pre-teen boy's immersion in skinhead culture rumbles with wit, fury and irresistible ska music.
#17
"CACHE" (Michael Haneke, 2005)


Never have I seen a cinema audience let out such a stunned collective gasp as at the climactic moment of Haneke's ruthless psychological chiller, which crosses taut threads of domestic tension through larger political queries with breathtaking élan. An enduring conversation piece.
#16
"DOGVILLE" (Lars von Trier, 2003)


Never a filmmaker to try out one provocation at a time, von Trier further stoked the inevitable media furore over his film's "anti-Americanism" with one of the most eccentric, cinematically contentious staging concepts in screen history. A fearsomely committed ensemble makes it fly.
#15
"MULHOLLAND DRIVE" (David Lynch, 2001)


So many things at once it rather defies a blurb, Lynch's headlong dive into dream logic and Hollywood myth is, by turn, heady, funny, silly, profound, erotic and very, very frightening, airily pulling off its narrative somersault with a slightly different finish every time you watch it.
#14
"MORVERN CALLAR" (Lynne Ramsay, 2002)


With only two features to her name, Ramsay has proved herself the most tactile, sensually alert filmmaker in modern British cinema, yet we still await her follow-up. Until then, multiple viewings of this magnificently unmoored character study, starring a peerless Samantha Morton, must suffice.
#13
"TIME OUT" (Laurent Cantet, 2002)


Nine years before "Up in the Air," Cantet detailed the crippling emotional aftermath of retrenchment with such wincing exactitude, it makes most current cultural statements on the topic appear insignificant by comparison. Aurelien Recoing's performance is a master class.
#12
"BEFORE NIGHT FALLS" (Julian Schnabel, 2000)


There's a happy, unruly spirit of artistic engagement coursing through Schnabel's dense, marvelously florid biopic of Reinaldo Arenas; as a painter interpreting the life of a poet, Schnabel boldly allows his medium to color that of his subject, restating Arenas' words with glorious imagery.
#11
"FAR FROM HEAVEN" (Todd Haynes, 2002)


Politely tapping on the door of tomorrow's Top 10, Todd Haynes's glorious homage to the structures and stylings of the 1950s domestic melodrama undercuts its own swoony nostalgia with a tart academic dissection of the social and racial prejudices poisoning both that era and this one.
Tomorrow — the Top 10. Catch up with #41-50 here, #31-40 here and #21-30 here. Here's the list so far:
1-10. TBA
11. "Far From Heaven"
12. "Before Night Falls"
13. "Time Out"
14. "Morvern Callar"
15. "Mulholland Drive"
16. "Dogville"
17. "Caché"
18. "This Is England"
19. "Heaven"
20. "Junebug"
21. "Brokeback Mountain"
22. "The Class"
23. "Beau Travail"
24. "In the Mood for Love"
25. "Jindabyne"
26. "No Country for Old Men"
27. "Once"
28. "Spider"
29. "The Departed"
30. "Wolf Creek"
31. "Last Resort"
32. "Wendy and Lucy"
33. "There Will Be Blood"
34. "Fish Tank"
35. "The Bourne Ultimatum"
36. "A Prophet"
37. "Moolaadé"
38. "Me and You and Everyone We Know"
39. "Intimacy"
40. "The Good Girl"
41. "The Hurt Locker"
42. "The Beat That My Heart Skipped"
43. "Lust, Caution"
44. "Iraq in Fragments"
45. "Jesus' Son"
46. "Japanese Story"
47. "Saraband"
48. "City of God"
49. "Zoolander"
50. "Devdas"