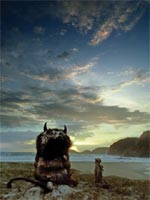 Steve Pond reports that Karen O and Carter Burwell's wonderful, Golden Globe-nominated score for "Where the Wild Things Are" has been disqualified for Best Original Score by the Academy's music branch. T-Bone Burnett and Stephen Bruton's "Crazy Heart" score, which has taken several critics' prizes, will not compete either.
It's hardly a surprise, given that both are largely song-based scores — not that that stopped "Slumdog Millionaire" qualifying last year. But it is disappointing, particularly for the former film, which was campaigning for a nomination in the category. (Fox Searchlight, presumably anticipating a disqualification, didn't bother listing Original Score in the FYC ads for "Crazy Heart.")
Also out of the race is "The Lovely Bones," though that is by composer Brian Eno's own volition. Pond has the details, as well as a list of the 81 films that did qualify for the category, here.