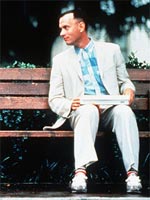 In one of yesterday's comment threads, a bit of a discussion built up concerning the quotability (or otherwise) of "Avatar," and how this factored into its potential pop-culture significance.
It's a subject that was also brought up a while back by Cinematical's Erik Davis, who wondered whether the film's oft-repeated refrain of "I see you" was a calculated attempt to enter popular conversation. I agree with him that the line seems tooled for that specific purpose, which is precisely why I have a hard time seeing it catch on in a lasting way. (That, and the fact that any sensible person know that "I see you" can only be preceded by a cry of "Peekaboo!")
Cinema's most quotable quotes are rarely designed to be as such. This is also the conclusion of a handily-timed LA Times article, which details the backstory behind now-classic lines from "Cool Hand Luke," "Forrest Gump," "Sudden Impact" and, uh, "A League of Their Own." (Must be an American thing.)
Joseph Stinson, the first-time screenwriter who dreamt up Clint Eastwood's "Go ahead … make my day" speech for "Sudden Impact," admits he thought from the get-go that it was "a pretty good line," but adds, ""If you set yourself up to write that one-liner that's going to be iconic, you set yourself up to never have it happen."
Oscar-winning scribe Eric Roth says much the same thing, though he allows that a potentially iconic line can reveal itself at the read-through stage. He goes on to describe the rather amusingly mundane circumstances by which "Forrest Gump"'s most quoted line came about:
I tried to create aphorisms that didn't particularly make sense, but they seemed to make sense within the context of this character saying them," he said in a phone interview. "My own mother used to say, 'Handsome is as handsome does.' I had Forrest say, 'Stupid is as stupid does.' "

"Life is like a box of chocolates" was originally as much as Roth wrote, he recalled. "Upon going through the script, Bob demanded, 'What the hell does this mean?' I said, 'You know, you never know what you're going to get.' And that's how the line came about.
More here. It's an fun read — even if it offers no insight into the complex writerly process that brought about "Orange mocha frappuccino" from my 49th favorite film of the decade. You can't have everything.