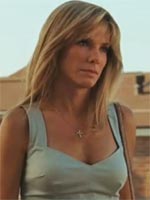 Vulture's Bilge Ebiri has written a nice piece on the circumstances that have led to Sandra Bullock becoming the year's unlikeliest Oscar contender, citing Bullock's 2009 achievements as a "primer" for comic actors seeking serious Oscar consideration. And the key, it seems, is not taking the word "serious" too much to heart.
Last month, I wondered why Bullock was gathering Oscar traction this year for a relatively unprestigious film, when a credible dramatic turn in 2005's Best Picture winner garnered her no awards attention whatsoever.
But while against-type casting can often reap Oscar benefits, Ebiri argues that actors like Bullock fare better when they don't veer too far from their established screen persona. Her "Blind Side" character, he claims, does just the right level of tweaking:
Leigh Anne Tuohy may be a real person, but she's not the kind of historical or ripped-from-the-headlines figure that usually attracts awards … After misfires like In Love and War, Bullock learned that maybe she wasn't cut out to play these kinds of parts. So, in The Blind Side, she takes a character who displays some of the all-American spunk and energy of her own onscreen persona and gives it a more serious twist. She doesn't try to "lose herself" in the part; moviegoers can recognize the Sandra Bullock they know and love in Leigh Anne.
There's something to that. The obvious Oscar precedent, of course, is Julia Roberts: "Erin Brockovich" may have been a socially-conscious biopic, but it was immaculately tailored to it's star's trademark sass and humor. There was enough artifice in the character's blue-collar affectations for voters to recognize it as Acting; but it still afforded them the opportunity to reward a beloved star for doing what she's good at doing.
The difference, of course, is that "Erin Brockovich" was an acclaimed Best Picture nominee from a highly-regarded auteur, while Roberts had some critics' awards under her belt. Bullock, on the other hand, has only her film's considerable box-office muscle on her side.
For this reason, I think the pundits claiming Bullock can win (as Ebiri does) are getting a little over-excited. Only two actresses this decade have claimed the Oscar without notching at least one of the major critics' awards (or at least the National Board of Review) along the way — and Nicole Kidman and Kate Winslet were both widely admired thesps in high-minded Best Picture nominees. I don't think Meryl Streep and Carey Mulligan need to start looking over their shoulders just yet.