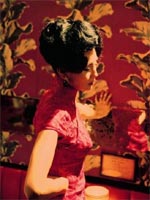 A little late, but we're at the halfway mark now, and I must say I couldn't be more delighted and flattered by your warm response to the list so far.
I mentioned in my intro to the first installment that I'd prefer you to view this as a loose playlist than as a rigid ordered assessment, and I'm thrilled that some of you have already taken me at my word, seeking out less-seen titles like "Last Resort" on Netflix and the like. On behalf of the movies, I thank you.
With that said, today's bracket of ten perhaps offers less buried treasure than yesterday's, even turning up a pair of Best Picture Oscar winners. Hey, sometimes films get popular for a reason — I'm not such a snob, after all.
That said, I suspect at least one of the following inclusions might prompt some healthy disagreement. The list continues after the cut.
#30
"WOLF CREEK" (Greg Mclean, 2005)


Brilliantly crafted, tight as a drum and more flat-out terrifying than anything I saw in a darkened theater this decade, Mclean's ruthless horror debut enriched the torture-porn formula with needlessly well-drawn character dynamics and a dose of grim humor. It's not pretty, but it sure got me.
#29
"THE DEPARTED" (Martin Scorsese, 2006)


Many will have you believe that this is lower-tier Scorsese, as if it's somehow cheapened by the Academy's delayed blessing. But this is pristine popcorn fare, with some of the nimblest storytelling of his career, while a love scene choreographed to "Comfortably Numb" is a thing of beauty.
#28
"SPIDER" (David Cronenberg, 2002)


"A History of Violence" may have garnered more critical notice, but it was with this delicate, sharply textured study of mental illness, child abuse and trauma that Cronenberg made his boldest aesthetic about-face. Its evocation of 1950s working-class London all but peels off the screen.
#27
"ONCE" (John Carney, 2007)

The kind of jangly, off-the-cuff cinematic sketch that can't be faked, calculated or, in all likelihood, repeated; the artless chemistry between its two amateur leads, and their sincere investment in the songs that propel their tentative, shivering romance, make for a unique screen musical.
#26
"NO COUNTRY FOR OLD MEN" (Joel and Ethan Coen, 2007)


The Academy's finest Best Picture selection in almost three decades and the most immaculate film of its makers' considerable career, this lean, brooding thriller was a dream marriage of artists: Cormac McCarthy's words lent the Coen's cockeyed filmmaking unprecedented muscle.
#25
"JINDABYNE" (Ray Lawrence, 2006)


Like so many of the greatest adaptations, this was an unlikely proposition on paper: an expansion of a Raymond Carver story already filmed as part of Altman's "Short Cuts" tapestry, the film's relocation of the story to rural Australia added moral and political layers to Carver's human conflict.
#24
"IN THE MOOD FOR LOVE" (Wong Kar-Wai, 2000)


A seamless atmospheric experience, as cinematography, design and music melt into each other to form a film that is more spell than story. Aching romance, however, gives the mood piece a beating heart; Tony Leung and Maggie Cheung made for a pair of cinema's most beautiful lovers.
#23
"BEAU TRAVAIL" (Claire Denis, 2000)


Claire Denis's remarkable decade began with its riskiest endeavor, an enigmatic visual poem that reworks "Billy Budd" through dance, body language and a score that veers from Benjamin Britten to Eurobeat. The mesmeric crevices of actor Denis Lavant's face are left to supply the pathos.
#22
"THE CLASS" (Laurent Cantet, 2008)


Cantet's lithe, literate, emotionally generous account of one year in the life of a put-upon, refreshingly imperfect high school teacher should be the last word in the classroom drama genre; avoiding easy morals, the film revels in the push-pull rhythms of argument and conversation.
#21
"BROKEBACK MOUNTAIN" (Ang Lee, 2005)


Media fuss over "the gay cowboy movie" threatened to overwhelm the soft, agenda-free voice of this deftly shaded love story that just happens to be between two men. Heath Ledger's wary, wounded performance would have entered the history books even in a film half this great.
Ten more tomorrow. Catch up with #41-50 here, and #31-40 here. Here's the list so far:
1-20. TBA
21. "Brokeback Mountain"
22. "The Class"
23. "Beau Travail"
24. "In the Mood for Love"
25. "Jindabyne"
26. "No Country for Old Men"
27. "Once"
28. "Spider"
29. "The Departed"
30. "Wolf Creek"
31. "Last Resort"
32. "Wendy and Lucy"
33. "There Will Be Blood"
34. "Fish Tank"
35. "The Bourne Ultimatum"
36. "A Prophet"
37. "Moolaadé"
38. "Me and You and Everyone We Know"
39. "Intimacy"
40. "The Good Girl"
41. "The Hurt Locker"
42. "The Beat That My Heart Skipped"
43. "Lust, Caution"
44. "Iraq in Fragments"
45. "Jesus' Son"
46. "Japanese Story"
47. "Saraband"
48. "City of God"
49. "Zoolander"
50. "Devdas"