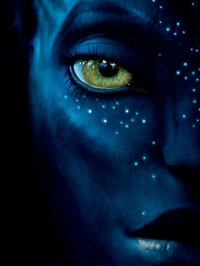 *All historical figures cited are adjusted to today's dollars.
Okay. What kind of fairy dust is James Cameron sprinkling in his films? Subliminal messages perhaps? There's no other explanation. "Avatar" is the number one movie again this weekend, raking in $68.3 million, off 10% from last week. It becomes the first film to spend three straight weeks at the top since "Tropic Thunder" and that weekend tally is the all time record for a third weekend by a mile. "Spider-Man" previously held the title with $55.7 million.
"Avatar" now has a running total of $352.1 million and will almost certainly pass $500 million before it exits theaters. Whether or not it can reach the $533.3 million of "The Dark Knight" is not certain, but with January's releases looking particularly dismal, who knows? It is certain that Cameron's film will become the second-highest grossing film of all time worldwide behind "Titanic," and that is just ridiculous.
The movie is already #94 all time domestically, and #16 of the decade. It's the highest grossing non-sequel since "The Passion of the Christ" and should eventually be the highest grossing original property since "Titanic." Box office figures of that nature are pure flukes and for a director to do it twice with completely different properties is jaw-dropping. James Cameron is, without a doubt, the king of the world.
"Sherlock Holmes" takes second with a 38% dip to $38.4 million. That's a little harsh for this kind of weekend and indicates that word of mouth is rather ordinary. Still, a $220 million finish is more than enough for Warner Bros. to fast track this franchise. How to top the villain of the first one, though? Short of wanting to hijack and harvest the moon, the only way to go is backwards in intensity.
"Alvin and the Chipmunks: The Squeakquel" fell 25% to $36.6 million and made a decent run at the number two spot. $157.3 million in the bank already makes this possibly the most lucrative live action family franchise of its kind since "Home Alone." I know my whole family saw it and there isn't a child in the group. Just a bunch of adults laughing at computer generated chipmunks eating their own poop.
Elsewhere, "The Blind Side" topped $200 million, which I read was the first time a film with only a female above the title and no action/adventure/fantasy elements has done so. That's a long-winded way of saying that Sandra Bullock has shown unprecedented box office muscle for a woman in a bore-athon.
Rob Marshall's "Nine" fell 28% from it's already tepid debut and is practically dead and buried from a box office standpoint. The large budget is unrecoverable from domestic box office now and The Weinstein Company is in real trouble. I'm not talking about Oscars either. This company may be in for a very rough 2010 with only "Youth in Revolt" and "Piranha 3D" on the schedule.
I didn't see anything this week but I still want to try and see "Police, Adjective" and "The White Ribbon" before I finalize my top 10 of 2009 in about a week. Incidentally, I did see "Piranha II: The Spawning" on DVD last night and that shit is awful. How Cameron ever got work again is a mystery.
The Friday Forecast will return to normal this week, just in time for all the movies nobody cares about to open.  Here are the weekend's top domestic grossers, courtesy of Exhibitor Relations: