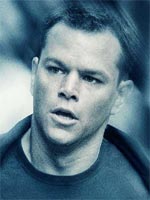 Yesterday, I began my countdown of my 50 favorite — do note that last word, I hesitate to say "best" — films of the 2000s. Today, we creep up another ten rungs on the ladder.
I wrote this in my introduction to the list yesterday, but it bears repeating: don't read too much into the rankings at this level. I'm not the kind of person who can scientifically determine whether my 37th favorite film of the decade is marginally — but conclusively — superior to my 38th favorite. Just today, I did some mild shuffling with the following titles, only to change my mind a few minutes later.
Bottom line: I think they're all pretty darn special. The list continues after the cut.
#40
"THE GOOD GIRL" (Miguel Arteta, 2002)


Not just the bedrock of my undying admiration for Jennifer Aniston (though I'll squeeze in another whine about her missing Oscar nom), but a wicked little morality tale with more pith and bite than its woozy Indiewood exterior lets on. Bonus points for Zooey Deschanel and "Cirque du Face."
#39
"INTIMACY" (Patrice Chéreau, 2001)


Chéreau's collaboration with Hanif Kureishi may have taken gold at Berlin, but more critics were interested in fussing over its unsimulated sex scenes than its laudably adult examination of a benefits-only relationship. A shame. Mark Rylance's performance is one of the decade's greatest.
#38
"ME AND YOU AND EVERYONE WE KNOW" (Miranda July, 2005)


Artist, author and filmmaker Miranda July is the kind of spacy, precious talent whom people tend to regard with adoration or immense irritation. Ordinarily, I'd be in the latter camp, but her debut bypasses mere indie quirk for more searching strangeness, and won my heart in the process.
#37
"MOOLAADE" (Ousmane Sembène, 2004)


The final feature from the late Senegalese master Sembène is a subtle triumph of political filmmaking, bringing his keen novelist's eye to a stark tale of rebellion against African patriarchy. Awash with color, compassion and more wit than the theme of female circumcision might promise.
#36
"A PROPHET" (Jacques Audiard, 2009)


Save it for the next decade's countdown if you must; I'm not that patient. Audiard went three-for-three in the 2000s, and saved the best for last with this ballsy, blood-stained crime saga, a prison film that matches TV's "Oz" for sociological detail and complexity. Tahar Rahim, the future is yours.
#35
"THE BOURNE ULTIMATUM" (Paul Greengrass, 2007)

Not a beat is missed in Greengrass's electrifying reinvigoration of the Hollywood chase thriller, a cinematic 100m sprint sustained over feature length. Half of me resists a fourth chapter, for this surely cannot be topped. The other half is itching to know what happens next.
#34
"FISH TANK" (Andrea Arnold, 2009)


Again, American critics must wait another ten years to weigh Andrea Arnold's furious study of teen ennui against the decade's achievements, by which time the filmmaker may have reached even greater heights. Luckily for me, I'm not American; for now, this film stacks up very nicely indeed.
#33
"THERE WILL BE BLOOD" (Paul Thomas Anderson, 2007)


Already granted modern-classic status by the critical masses, Anderson's messy, abrasive, deliciously insane epic subverted its own Hollywood grandeur with one of the decade's most unreadable protagonists. I'm not sure every note lands just right, but its colossal nerve sees it through.
#32
"WENDY AND LUCY" (Kelly Reichardt, 2008)


Full disclosure: I first saw Reichardt's wrenching girl-mongrel love story in the weeks after I lost my own long-beloved dog, so it didn't have to work very hard to reduce me to a teary puddle in the cinema. Repeat viewings, however, reveal deeper layers of humanity here.
#31
"LAST RESORT" (Pawel Pawlikowski, 2000)


Stranded at Gatwick Airport with a light suitcase and a sceptical son, a young Russian immigrant is compelled to seek asylum in a hellish seaside resort. This short, taut beauty turns the unimaginable, unshakable; Dina Korzun and Paddy Considine make a heart-crushing pair of lovers.
More tomorrow. If you missed #41-50 yesterday, catch up here. Here's how the list has taken shape so far:
1-30. TBA
31. "Last Resort"
32. "Wendy and Lucy"
33. "There Will Be Blood"
34. "Fish Tank"
35. "The Bourne Ultimatum"
36. "A Prophet"
37. "Moolaadé"
38. "Me and You and Everyone We Know"
39. "Intimacy"
40. "The Good Girl"
41. "The Hurt Locker"
42. "The Beat That My Heart Skipped"
43. "Lust, Caution"
44. "Iraq in Fragments"
45. "Jesus' Son"
46. "Japanese Story"
47. "Saraband"
48. "City of God"
49. "Zoolander"
50. "Devdas"