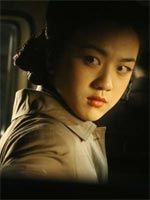 Here we go. I'll reserve a more complete intro for the final part on Wednesday, but a quick word on the compilation of the list that will unfold over the next five days.
When, several months ago, I began the long, occasionally maddening but not altogether unpleasant process of sifting out the best films of the last ten years, I thought reducing a decade's work of high-quality cinema – the first time I've really been of an age to attempt such an exercise – to a mere 10 films seemed an impossibility.
So I rather naively decided that a Top 50 – the equivalent, if you will, of a decade's worth of Best Picture nominees (though not equally allocated by year) – seemed a less punishing task. More room for the films I love, less fretting about inclusions, happy days.
And then a funny thing happened.
As I drew up longlists that became gradually, incrementally shorter, my Top 10 became comfortably, if surprisingly, clear to me. The rest – chaos. Over the various drafts I've drawn up of the list, films have slid recklessly up and down the rankings.
Depending on mood, memory or perhaps just the weather, last week's #30 could be this week's #50, or worse. When the films are all this good, such numerical rankings are little more than a formality – a fun formality, mind, which is why I resisted the temptation to cop out and go alphabetical.
Still, sometimes you just have to draw the line and let it be. I can hardly regret including any of the films I have, though I've stunned myself with some of the titles I've left out. See it less as a qualitative assessment – in the first instalments especially – and more as a kind of individual playlist, and we'll be fine. Hope you enjoy.
#50
"DEVDAS" (Sanjay Leela Bhansali, 2002)


I freely admit that when it comes to Bollywood cinema, the old "I don't know much, but I know what I like" maxim applies. And there's nothing about this vast, immersive, slightly bonkers kitschtacular that I don't like. An acquired taste, certainly, but worth the effort.
#49
"ZOOLANDER" (Ben Stiller, 2001)


Needless to say, not every film here is on the list for the same reason. But as crudely drawn as it is, Stiller's sweet, silly, brilliantly designed bauble has afforded me more straight-up laughs (and quotes) than any film this decade. Say it with me: "Moisture is the essence of wetness."
#48
"CITY OF GOD" (Fernando Meirelles, 2003)


I had let a few years slide between viewings of Meirelles's raggedly beautiful patchwork of Brazilian slum life, and in that time, had slightly forgotten what an individual, electric experience it really is. Happily, the jolt returned on a recent reappraisal.
#47
"SARABAND" (Ingmar Bergman, 2004)


The master's criminally undervalued swansong bookended his immortal "Scenes From a Marriage" with a tense, adroit study of the lifelong scars left by a failed marriage. It may derive some power from its relationship to Bergman's oeuvre, but it's a devastating experience on any terms.
#46
"JAPANESE STORY" (Sue Brooks, 2003)


I had the immense good fortune of entering a screening of this fragile Australian miniature with no knowledge of the twist that was to come, and was floored by the emotional somersault its accidental love story performs. Still unnerving on repeat viewings, with Toni Collette's finest hour.
#45
"JESUS' SON" (Alison Maclean, 2000)


Eight years after her startling debut, "Crush," Maclean followed up with this loose-limbed, literate and blackly funny account of a junkie's wanderings through 1970s America, with immense performances from Billy Crudup and Samantha Morton. Now where is Maclean's third feature?
#44
"IRAQ IN FRAGMENTS" (James Longley, 2006)


Doing exactly what it says on the tin, director-producer-cinematographer-editor-composer-sound-technician Longley's astonishing splintered portrait of the eponymous country's people (as opposed, for once, to politics) is an extraordinarily generous and humane achievement.
#43
"LUST, CAUTION" (Ang Lee, 2007)


Mystifyingly ill-received by many critics upon its Venice premiere, Ang Lee's lushly appointed, muscularly told and, yes, highly erotic espionage romance had the feel of an immediate classic to me, channeling vintage Hollywood by way of another world. Tang Wei was robbed of every award going.
#42
"THE BEAT THAT MY HEART SKIPPED" (Jacques Audiard, 2005)


The longstanding marriage of French art and American genre enjoyed a particularly happy anniversary with Audiard's sleek, sexy, but hard-as-nails reworking of James Toback's "Fingers." It improved on the sly delights of Audiard's previous work, but there was even better to come.
#41
"THE HURT LOCKER" (Kathryn Bigelow, 2009)


What more can I say at this point about Bigelow's riveting body-slam of a war film? Just that after two vehicles this decade that were oddly (if fascinatingly) mismatched to her near-peerless gifts for action filmmaking, it was a joy to see her click completely with script and subject. An Oscar hopefully awaits.
That's it for today. Part Two, with Nos. 31-40, coming tomorrow.