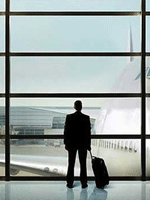 By now, most seem to think the eventual Best Picture race (before nominations have even been announced, mind you) will be a wicked battle between James Cameron's "Avatar" and Jason Reitman's "Up in the Air." The cases for the latter as frontrunner were made before the former began smashing box office records.  The cases for the former have been made in the wake of critical and commercial success.
And each film, make no mistake, has an angle on this thing.  It'll just come down to which angle represents what tickles the Academy's fancy NOW, and timing could be a major factor.  But there is something else to consider.  Which angle represents the film culture Hollywood wants to put forth and claim as its own?  What statement does the group, at large, wish to make?
That's what Entertainment Weekly's Owen Gleiberman is getting at when he writes that this perceived two-horse race is a case of "Old School script-driven Classic Hollywood vs. New Age post-script 21st Century Entertainment."  And he might not be far off the mark.
Unfortunately, Gleiberman takes some of the sting off his argument when he proves that he can't help himself, vis a vis his mixed feelings on Cameron's film, but his thesis is that the last time we have a "full-on, culture-war" vibe in the Best Picture race, it was Quentin Tarantino's "Pulp Fiction" vs. Robert Zemeckis's "Forrest Gump" in 1995.  The indie moment, Gleiberman asserts, had truly landed and threatened the establishment in Tarantino's film, but Zemeckis's "sentimental patriotic afflicted-hero fairy tale that seemed, in many ways, to be a kind of crowd-pleasing candy box of 'mainstream' values," as he puts it.
"Avatar" vs. "Up in the Air," Gleiberman writes, will be a new brand of cinema culture war at the Oscars:
In this case, though, it's not Establishment vs. Outsider. It's Old School script-driven Classic Hollywood vs. New Age post-script 21st Century Entertainment. Up in the Air is a movie of such nimble wit and craftsmanship, and such timely humanity, that it has been compared, often and justly, to the venerable films of the studio system — the screwball comedies, for instance, that were rooted in clockwork elegant screenplays, incandescent star performances, and a certain tossed-off (but, deep down, rigorously achieved) insouciance. Whereas Avatar is the eye-popping techno spectacle of the Now era: a vision so "revolutionary" that it leaves many of those pesky old-fashioned story elements behind, but (at least according to its adherents, who are legion) more than makes up for that by placing the audience directly inside an organic wonder-world, using technology to return fabulistic awe to the big screen…

And so the voting, as it always does, will inevitably reflect what the majority of the Hollywood establishment has chosen as a symbol of its values. In more ways than you can count, it's the past versus the future.
Paramount's best play against a Goliath like "Avatar" is obvious: "They don't make 'em like they used to."  And it's a valid argument if only because the film in question is such a skilled endeavor.  Whether they can slay the beast (and whether this will indeed be the battle) is still to be seen, but I feel Gleiberman.  This Oscar race could be quite exciting when considered along these lines.  Luckily there are those of us who have both of these films in our list of the year's best films.
Read the rest of his piece here.