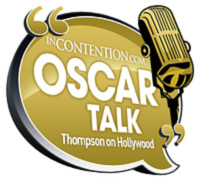 Welcome to the first installment of Oscar Talk of 2010 and, indeed, of the new decade. Oscar Talk is your weekly kudocast between yours truly and Anne Thompson of Thompson on Hollywood.
It's been two weeks since we dug into the Oscar race in this space. Here's what's on the docket today:
• Rob Marshall's "Nine" has landed in theaters and been both critically and commercially dismissed, so the question is: Is it out of the Best Picture race? Anne and I discuss potential replacements if that's the case.
• From the bottom of the list to the top, we talk frontrunners. Is "Avatar" the one to beat? Which films are threatening that position?
• Speaking of which, could Zoe Saldana be in the mix for a lead actress nomination despite perceived CG bias? Anne puts forth the general narrative, but I think that's a bit defeatist. Rules are broken every year.
• Finally, a new year a new list of anticipations. Anne and I run through a big list of films we're most looking forward to in 2010.
You can listen to this week's podcast below, with Robert Burns's "Auld Lang Syne" leading the way. Cheesy, I know.  And as always, you can subscribe to Oscar Talk via iTunes here.
[display_podcast]