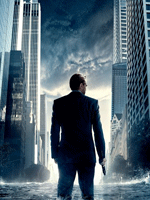 Annually I put together a hasty list of my most anticipated films of the New Year on January 1.  I got rid of the pomp and circumstance around the perennial post a while back and just stuck with the list.  But a couple of things…
I'm not sure if Kevin Macdonald's "The Eagle of the Ninth" will make it to theaters in 2010, but that would definitely be a consideration.  And it's difficult not to be interested in product from major filmmakers like Martin Scorsese, David Fincher, Peter Weir and James L. Brooks, but, alas, they didn't speak up for me when putting this together.
Typically, the blockbusters will show up in numbers on something like this, because for me, that's what I tend to anticipate.  When art seems to be skillfully married to commerce (like my #1 selection — which is most people's #1 selection), all the better.  But it's tough to really know what the art house product could have in store until we're in the thick of the year.
Anyway, these are the 10 that have my interest piqued from here (more on this in the podcast later today):
1. "Inception" (Christopher Nolan)
2. "Black Swan" (Darren Aronofsky)
3. "Toy Story 3" (Lee Unkrich)
4. "Iron Man 2" (Jon Favreau)
5. "Alice in Wonderland" (Tim Burton)
6. "Robin Hood" (Ridley Scott)
7. "The Tree of Life" (Terrence Malick)
8. "Your Highness" (David Gordon Green)
9. "Kick-Ass" (Matthew Vaughn)
10. "Wall Street: Money Never Sleeps" (Oliver Stone)
You?