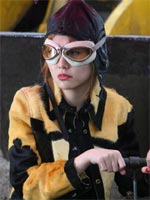 On the technical side of things, is anyone as uninspired as I am by the apparent frontrunners for Best Costume Design?
I bow to no one in my admiration for the genius of Sandy Powell, but the Easter egg-colored wardrobe of "The Young Victoria" is routine work by her high standards. That hasn't stopped most picking her as the one to beat, given the Academy's recent penchant for royal frills in that category.
Another two-time winner, Colleen Atwood, has more awards heat for "Nine" than "Public Enemies" — a situation really not borne out by her flashy but familiar work in the former film. And it's obvious that Anna B. Sheppard knows her WWII duds inside-out, but does she serve up anything new in the admittedly well-dressed "Inglourious Basterds?"
There is some work worth getting excited about: Janet Patterson's exquisitely color-coded designs for "Bright Star" looks likely to grab a nod, while there's spectacle and innovation to spare in fringe contenders like "The Imaginarium of Doctor Parnassus" and "Where the Wild Things Are." In a less showy register, I've already spoken up for Odile Dicks-Mireaux's smart, character-serving creations for "An Education."
Any of these titles (not to mention many others) could show up on nomination morning, given the regularity with which this branch picks off-beam contenders ignored elsewhere — think "Across the Universe," "Troy," "Charlie and the Chocolate Factory" …
So with that in mind, can I take this opportunity to highlight Beatrix Aruna Pasztor's award-caliber contributions to "The Brothers Bloom?" Rian Johnson's sophomore effort has been largely forgotten since its May debut, and not without justification. But since I saw the film in October 2008, Pasztor's alternately witty, stylized and silly designs have stuck in my mind.
Of course, the Academy is notoriously resistant to contemporary work in this category. But the threads in "The Brothers Bloom" — plainly retro-inspired, with nods to high couture — are elaborate enough to please them. The self-conscious kookiness on display might irk some, but they are as perfectly married to the tone and style of the film containing them as can be. It's career-best work from the never-nominated Pasztor, whose previous credits include "The Fisher King," "Vanity Fair" and the CDG-nominated "Alfie."
Obviously, it's the longest of shots — after all, I bet most of you had already forgotten the film before I brought it up — but in this category, nothing should be discounted.