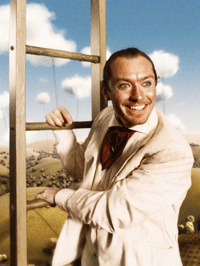 Terry Gilliam's "The Imaginarium of Doctor Parnassus" is the latest entry in the director's long history of wondrous, fantastical worlds. The film might be best remembered as containing Heath Ledger's final performance. But Gilliam's rich imagination is also seen in the work of below-the-line craftspeople who brought his world alive with splendid visuals and a rich color palette.
Cinematographer Nicola Pecorini, production designer Anastasia Masaro, original designer David Warren, costume designer Monique Prud'Homme and composers Jeff and Mychael Danna all had pivotal roles in bringing the work to life on screen. I recently spoke to each them about their contributions to the film.
Without any doubt, the experience of working with Gilliam had an immense impact on the crew. Jeff Danna describes the helmer as "a dream come true for a composer – he understands, reads and plays music, which very few directors do, but he doesn't try to take over our job." Danna says Gilliam is clear about want he wants and will "make noises…all sorts of crazy stuff to describe what he's looking for musically."
Masaro agrees that Gilliam will stop at nothing to get at his vision. "He likes to work in chaos," she says.  "You can see his ideas from film to film to film and what you have to do is carry your aesthetic but work within his framework."
Warren describes Gilliam as being very appreciate of the crafts crew on his films.  "He knows what film will look like in his head," Warren says.  "He's obviously very visual. He follows certain details into obscene proportions, such as 'What's that spoon going to be made out of?'"
Prud'Homme concurs that Gilliam is a "man of thousands of ideas and countless energy.  He likes to be in control, but at the same time welcomes people who have ideas and are willing to share and go with him. It's an odyssey."
Finally, Pecorini adds that he always felt appreciated with Gilliam, conceding he was "challenging" but also that he was "fun and great; I could always work with him because he really gets you involved – you feel entitled to any opinion and that you are making movie together."
Another unique aspect of "The Imaginarium of Doctor Parnassus" is that it blended period, contemporary and fantastical elements. This presented great challenges – and great opportunities – for its crew.
Masaro described the experience as "absolutely more challenging – but also more fun," before adding that "one of the most fun things about my job was the research." She says she has an opportunity to truly develop the story through her work. "On something like this, that is so fantastical and historical, sets become characters," she says.  "The fact that we were putting in so many different periods made it helpful. It would have been more difficult to stick to just one and fit in with Parnassus's character better."
Warren speaks of Gilliam's influence in this area as well. "Terry's got a very eclectic mind and a deep historical appreciation," he describes. "A lot of stuff in the film is referenced from the deepest recesses in his imagination."
As a costume designer, Prud'Homme was particularly cognizant of the need to blend the different elements of the story together. "Doctor Parnassus is immortal, and has lived a long time, all around the world," she explains. "Therefore, we needed lots of periods, and while he was always in poverty, he collects things."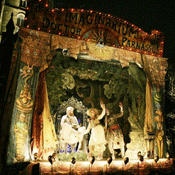 Pecorini emphasizes that he needed to get the look of the film just right when the characters were inside the Imaginarium. "Each moment of the Imaginarium had a specific painting quality," he says. He also notes that he had to blend in his photography, knowing where the visual effects would eventually take over. "Most of the computer generated imagery was not pure," he says, citing an exterior monastery as an example.
Of course, the tragic passing of Heath Ledger, after shooting in London had wrapped and the Vancouver filming was about to get started, affected everyone involved.
Masaro says she will never forget that day. "We had been feverishly building in Vancouver," she recalls. "Terry had gotten into the studio and loved what he saw so everyone was feeling good but going, 'Wow…Terry's crazy.'" She never was prepared for what would follow.
"I'm sitting in the art department and then my colleague comes in and says, 'Heath died.' I said, 'What are you talking about?' He comes in with his computer and shows me, on his own computer. Then I hear a big bang, followed by a 'FUCK!,' and it was Terry." Everyone was devastated. "We spent the day wondering around like zombies," she continues. "The press was already outside the studios. We didn't know what to say to each other, let alone anyone else. I hugged Terry with tears in our eyes."
Pecorini, who had worked with Ledger before, felt he had lost a friend. While his camera crew for the most part changed between the London and Vancouver shoots, a principal problem emerged due to the need to accommodate the schedules of Johnny Depp, Colin Farrell and Jude Law, who stepped in for Ledger in a creative solution to losing the star of the production.
"We always had to be ready to do everything at any given moment," Pecorini says.  "But I wanted to bring to light the final work of Heath."
Jeff Danna did not know Ledger personally, so there was not a personal angle for him, but he also was shocked when, while working on songs for the film, the news popped up on the web. "Ninety-nine percent of the time when your star passes away, things are over, but Terry told the insurance company, 'Give me three days to think of something.'"
Prud'Homme says Gilliam's solution "seemed to be the best solution for preserving all the work that Heath, and others, had done, and also the character that he had created." She adds her admiration at the cleverness of having Imaginarium transformations for the character to explain away the shift, though she had to make quadruple the costumes for the character as a result.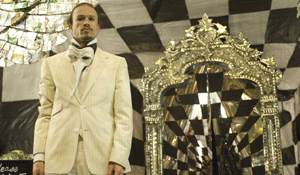 As tragic and challenging as Ledger's passing was, it was not the only obstacle the artists encountered. Jeff Danna says that he was brought on before filming even started – rare for composers. "The reason was because Terry wanted to have some themes and songs during filming," he explains, adding that composing a theme without seeing the accompanying visuals is a difficult task.
Masaro adds that the film had a budget that was very difficult to keep within that. Time and money are what she describes as the film's biggest challenges. "In London, we pretty much worked through every single weekend," she says, "while in Vancouver, we didn't know what to do after Heath passed. But we kept building as Terry and producers decided what to do.  Thank God, or else we never would have been done on time."
Pecorini concurs that the scale of the film wasn't matched by the budget. "In London, the huge challenge was time," he says.  "It was a very, very tight schedule and we should have had another 10 days of shooting in London." He adds that, because of budget and the time frame of the shoot, he had to rely on public lighting. "We had to keep the lights on at various times," he explains. "Not an easy task in London in the autumn."
After a trying yet rewarding shoot, what do these craftspeople think they will most take with them?
Danna describes the movie as "one of those films that you really hope for as a composer. As composers, we're storytellers.  There are films that require something quite minimal.  The best thing to do is almost nothing. But there are some films, like 'Doctor Parnassus,' where music can be very musical. It was such a colourful palette."
Warren turns to his director as the most memorable aspect of making the film. "Conceptually, there was no idea too ridiculous for Terry," he says. "He'll push you and push you and push you and you need to fire on all six cylinders." Warren believes the experience will improve his work in the future.
For Pecorini, however, the most memorable part of the filmmaking remains Ledger's passing. "It was a very strong emotional moment," he says. "I was very, very, very good friends with Heath.  We'd known each other for ages.  That we finished the job is, for me, extraordinary.  When it happened, I thought the money people would have pulled the plug and I think that, in 10-15 years time, what we did will be looked at as an extraordinary achievement."
"The Imaginarium of Doctor Parnassus" is just the latest treat for the senses from Terry Gilliam. What is clear, however, is that he could not have done it without these dedicated below-the-line artists. It is also clear they immensely enjoyed their experiences on the film.  With a design feast such as this, how could they not?