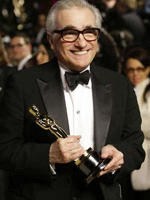 The first time I stumbled into this labyrinth of Oscar coverage and analysis, it wasn't a labyrinth.  It was a handful of dedicated Oscarphiles and movie fans.  It was Thanksgiving break, 2000, and I discovered Sasha Stone's Oscarwatch (now Awards Daily).  At the time, it was such an interesting, novel endeavor.  No one was really doing this, at least from the angle she was doing it.
Well, what a difference a decade makes.
Over at Awards Daily, Stone lays out her 10 most memorable Oscar moments of the decade.  For me, the biggest moment was George Lucas, Francis Ford Coppola and Steve Spielberg calling out Martin Scorsese's name at the 2007 ceremony.  To say nothing of the fact that his win for Best Director and his film, "The Departed," taking Best Picture, capped off the tightest race of the decade, seeing Marty hold that statue, finally — it would make any Oscarwatcher slightly emotional.  His name was finally removed from the rank of the unrecognized.
Of that particular moment, Stone agrees, writing that "seeing Martin Scorsese finally win after two crushing losses was the high point thus far of my experience Oscar watching."
What were your Oscar moments of the decade?