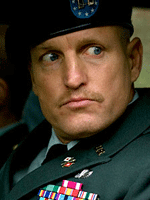 In the last week or two, the buzz for Rob Marshall's "Nine" has, undeniably, plummeted.  It took a while for it to get to that point.  The first screening was held nearly a month and a half ago in New York, after all.  But enough goodwill and a certain lazy expectation that the below-the-line elements would pull the film across (guilty) kept it in the Best Picture mix.
No longer.  The chips are finally hitting the table and the writing on the wall seems to indicate that the film will join "The Lovely Bones" as one of the biggest awards casualties of the season.  But which film will replace it in the line-up?  That has been the point of discussion (and will again for Anne and I in tomorrow's Oscar Talk).  And Dave Karger has placed his bet on Oren Moverman's wonderful war drama "The Messenger."
If this happens — and that's a big "if" — then, in my view, it will be a validation of what a switch to 10 Best Picture nominees could (and should) be.  But films like "The Messenger" don't exactly bring up ratings numbers, so I'm sure AMPAS brass would rather something like "Star Trek" or "District 9" capitalize on "Nine"'s misfortune.  Still, this is an amazing little film that deserves this kind of serious acclaim and status.
Of the film's prospects, Karger writes:
…since it's the No. 1 and No. 2 votes on the Academy's ranked ballots that truly count, a film with a smaller cult of enthusiastic followers—think District 9 or, more likely, The Messenger—is poised to become a spoiler.
Karger doesn't just set aside a place for the film in his Best Picture predictions, but along with the expected Woody Harrelson expectation in the Best Supporting Actor category, he goes out on a limb and predicts Samantha Morton to show up in the supporting actress field.  Okay, maybe it's not such a limb, but then again, it kind of is since he has her doing so at the expense of all of "Nine"'s supporting ladies.  Ouch.
Yes, Karger is chalking the movie musical up for below-the-line attention only, and he's probably right.
For all the Moverman love, he doesn't save a place for the film in the original screenplay category.  Pity.  It would be such a more inspired nomination that the horrid "(500) Days of Summer," but, alas, Fox Searchlight has built a handsome, focused campaign around that film.  It's up to the writers now.
Karger's adapted screenplay prediction matches my own list 5/5, as does his lead actress field.  But he's plumping for Matt Damon's sleep-walk turn in "Invictus" and a Lee Daniels snub in Best Director otherwise.
Read the rest of Karger's predictions, with commentary, at Entertainment Weekly.