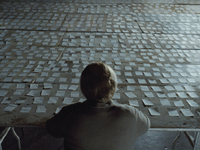 I'm happy to see the Chicago Sun-Times' Roger Ebert is bold enough to tap something like Charlie Kaufman's "Synecdoche, New York" as the best film of the decade.  His list on the whole is rather singular, I found, which is also refreshing.
Of his number one pick, he says:
"Synecdoche, New York" is the best film of the decade. It intends no less than to evoke the strategies we use to live our lives. After beginning my first viewing in confusion, I began to glimpse its purpose and by the end was eager to see it again, then once again, and I am not furnished. Charlie Kaufman understands how I live my life, and I suppose his own, and I suspect most of us. Faced with the bewildering demands of time, space, emotion, morality, lust, greed, hope, dreams, dreads and faiths, we build compartments in our minds. It is a way of seeming sane.
That's a wonderful way of summing up the work of Charlie Kaufman, who I recently called the "filmmaker of the decade."  His is perhaps the most penetrating and insightful work in the medium today.  Check out the rest of Ebert's list here.