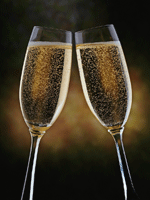 It's almost that time.  I'm having a modest gathering at the homestead tonight, contrasting strongly with the 12-head Thanksgiving feast and the week-long trip to New York that dominated the last two holidays.  But before I go about entertaining, before the clock ticks to zero, a few things.
It's been a good year, and a good decade.  My 20s dominated the frame, so I've either learned a lot or have a lot to learn, depending on your perspective.  I've enjoyed cultivating a readership and a place of conversation for movie lovers and I'm happy (and feel incredibly lucky) to have done it on my terms throughout.  There are people much more qualified than me looking for work.  It's difficult not to take note of that and keep things in perspective.
From poorly-designed, unrefined beginnings with the Oscar Central brand in the first part of the decade to the business In Contention has become, I've seen a lot and learned even more.  But I know, as always, there is a road ahead, and the dawning of a new decade begins to illuminate that fact: there is always a road ahead.
We wind down the year and the decade here at In Contention as a group of collaborators, passionate about the angle we choose to cover the cinema, looking on the horizon for new, engaging grist for the mill.  Yet we cross over one man less, as John Foote, after three years of serving as our Toronto correspondent and a weekly columnist, will be picking up stakes and moving on to other things.  We wish him well.
Me, I wind the year and decade down 10 years older, of course, and feeling every single one of them.  But joys both professional and personal have come to the fore most recently, and for them, I am ever grateful.  Although — as always — there is a road ahead.
So I look forward to leaving the aughts behind me and moving on up that road.  And I look forward to your company along the way.  Here's to a new day, a new year, a new decade and a new lease on what's possible.
Happy New Year.