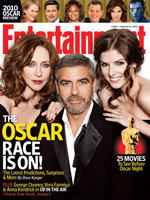 I think I have a few Entertainment Weekly Oscar special issues dating back to, oh, 1995 or so.  I used to relish in the odds, the Oscar articles cooked up by the magazine's staff, and, obviously, Dave Karger's work throughout.  Yeah, I'm a bit jaded on the circuit now, but once upon a time, I was excited to see who'd get the Oscar cover.
Ah, who am I fooling?  I still get very curious.  For the eventual post-nominations cover, that is.  For a couple of years, it seemed that designation was a harbinger.  Then "Crouching Tiger, Hidden Dragon" was featured in 2000 and things didn't go that film's way for Oscar.
This year, I thought it would be one of two films on the early race issue, the two films I think are duking it out for Best Picture.  And sure enough, one of them got it: "Up in the Air." We'll see who gets the post-nod cover.
EW's Pop Watch blog has more of the early scoop.  The issue hits stands Friday and will include Karger's predictions.  Click here for a slightly bigger version.